Clinical:
A 44 years old lady
Progressively increase in abdominal distension
Associated with occasional pain
No bowel symptoms
Normal menses
Ultrasound by gynaecologist showed soft tissue mass in pelvic region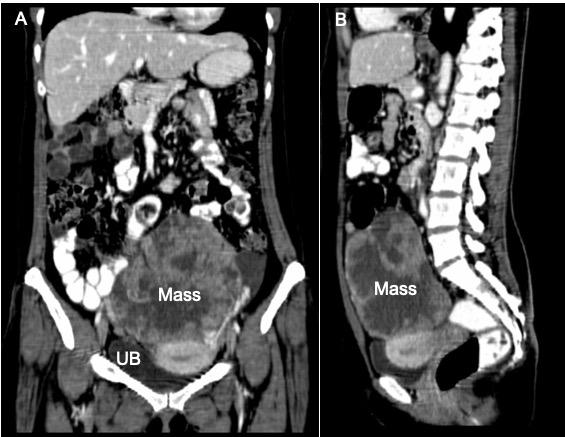 CT findings:
There is a heterogeneously enhancing pelvic mass with central necrosis causing displacement bowel loops.
The mass measures 12x15x10 cm.
There are cystic component within the mass lesion.
No calcification or fat component within.
No ascites
Intra-operative findings:
Left ovarian tumour solid cystic consistency measuring 10×9 cm. No tumour deposit on its capsule. Capsule not breached.
Adhesion seen between left ovary to the right lateral pelvic wall and sigmoid colon with appendix
Uterus is normal in size.
Right ovary normal in size, present of tumour deposits measuring 4×4 cm on its lateral surface.
POD free. Both fallopian tubes are normal. Omentum normal
Right perioneal pelvic deposits seen 1×1 cm
HPE findings:
Macroscopy: specimen consists of uterus, cervix, right ovary, left ovary, left ovarian tumour and both fallopian tubes weighing 800 gm. The left ovarian tumour is 110x90x45 mm having an intact capsule and shows a solid pale tan cut surface with a few cystic spaces measuring 3 m to 20 mm in diameter. Large area of necrosis are present. The right ovary shows a fungating papillary like lesion at the serosa measuring about 40x20x12 mm having a grey white cut surface infiltrating into the stroma. A small cystic space is noted measuring 20 mm in diameter containing jelly like material.
Microscopy: sections of the left ovarian tumour show a solid and complex papillary and glandular structures. Eliciting a desmoplastic reaction with large areas of necrosis. The tumour are composed of a pleomorphic, vesicular nuclei, with prominent nucleolus and prominent nucleolus and moderate amount of cytoplasm. Mitoses are present. There are tumour deposits in the omentum and right ovary with ovarian stromal involvement seen.
Interpretation: Serous adenocarcinoma of left ovary with contralateral ovarian involvement. Omentum also show foci of tumour deposits.
Diagnosis: Ovarian serous cystadenocarcinoma
Discussion:
Ovarian serous cystadenocarcinoma is the malignant form of ovarian serous tumour
It is the most common type of ovarian malignancy, representing over 50-80% of all malignant epithelial ovarian tumors.
Serous ovarian cystadenocarcinomas account for ~25% of serous tumors.
The incidence peaks around the 6thto 7thdecades of life
Recognized risk factors include: nulliparity, early menarche, late menopause and positive family history.
Elevated CA-125 is seen in more than 90% of cases
Typical imaging features of ovarian cystadenocarcinoma include:

cystic adnexal mass with a substantial solid component
calcification uncommon, but can be seen (~12%)
frequently bilateral
ascites
lymphadenopathy