Clinical:
A 21 years old lady with mass per abdomen
Slowly enlarging
No compressive symptoms
Menstrual cycle is normal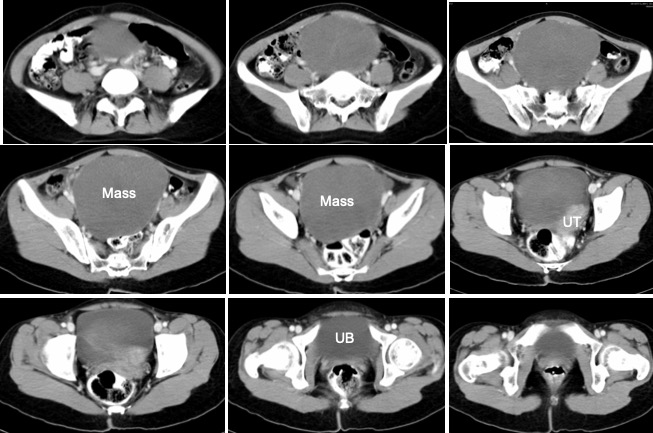 CT findings:
A mass lesion arising from the pelvic and extends to abdomen
The mass is well circumscribed with HU:30-50
No calcification or fat component within the mass
No enhancement post contrast
No internal septae
Clear plane of demarcation with the uterus (UT) and urinary bladder (UB)
Uterus is displaced to the left but grossly normal in size and no focal lesion within
Normal ovaries are not seen
Intra-operative findings:
Minimal peritoneal fluid
Right ovarian tumour 10x15x10 cm, lobulated but smooth surface, no gross tumour deposits. Removed intact.
Uterus, left ovary and left fallopian tubes are grossly normal
Omentum normal
HPE findings:
Macroscopy: specimen labelled as huge ovarian tumour consist of partially cut open ovarian mass measuring 130x85x120 mm with an attached fallopian tube. The whole specimen weighs 750 gms. The capsule is grossly intact. Serial cut sections show brownish whorl-like cut surfaces. No haemorrhage, necrosis or papillary projection seen.
Microscopy: An encapsulated tumour composed of interlacing fascicles and intersecting bundles of smooth muscle cells. Mitotic figures range from 0-3/10 hpf. There is no nuclear atypia or mitosis. Cystic degeneration is seen. The fallopian tube is unremarkable. Immunohistochemical stains show the tumour cells are positive for smooth muscle action (SMA) and vimentin. The cells are negative for desmin.
Diagnosis: Leiomyoma of right ovary
Discussion:
Leiomyomas represent the most common gynecologic and uterine neoplasms.
However, leiomyomas occasionally occur with unusual growth patterns or in unusual locations that make their identification more challenging both clinically and radiologically.
leiomyomas with an uncommon growth pattern include diffuse peritoneal leiomyomatosis, intravenous leiomyomatosis, benign metastasizing leiomyomas, retroperitoneal leiomyomas, and parasitic leiomyomas
The unusual locations of leiomyomas include the urinary bladder, urethra, vulva, and ovaries
Primary ovarian leiomyoma is one of the rarest solid tumors of the ovary, constituting only 0.5%–1% of benign ovarian neoplasms
The tumors most commonly occur in middle-aged women, usually are unilateral, and frequently (80% of cases) are coexistent with uterine leiomyomas
The majority of these tumours are discovered incidentally, with about 80% of the cases occurring in premenopausal women
MRI has been reported to show features similar to uterine leiomyomas (intermediate signal intensity on T1-weighted images and low signal intensity on T2-weighted images )