Clinical:
A 19 years old boy
No known medical problem
Presented with generalized tonic clonic seizure
No neurological deficit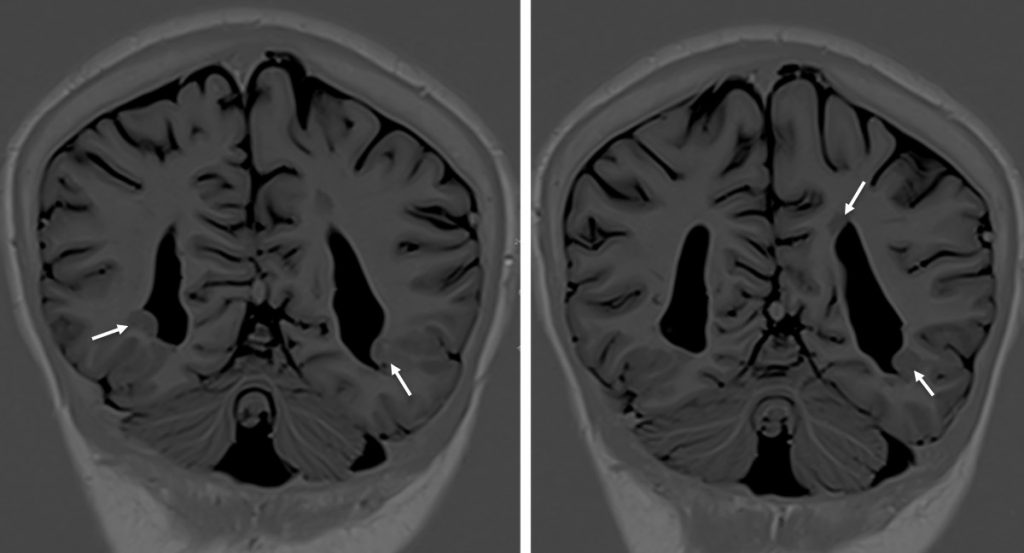 MRI findings:
Bilateral hippocampus are symmetrical with normal signal intensity (images not shown).
The amygdalar grey matter shows normal signal intensity. No evidence of significant alteration in size or focal asymmetry.
There are multiple subependymal grey heterotopia seen along  occipital horns of bilateral lateral ventricle (white arrows). They follow grey matter signal on T1 and T2 sequences. They do not show enhancement in post contrast sequences.
Diagnosis: Subependymal grey matter heterotopia 
Discussion:
Heterotopias represents rest of neurons along migration pathways (anywhere from ventricular walls to subcortical regions)
Most common presentation: intractable seizures
Most heterotopias are of the nodular types which is seen as foci of gray matter along ependymal surface of ventricles (differential diagnosis: tuberous sclerosis)
Multiple heterotopias may be considered diffuse disease and surgery is not indicated
Heterotopias may also be subcortical and mass-like, may involve the entire thickness of white matter and be transmantle
Hetrotopias do not enhance