Case contribution: Dr. Raja Rizal Azman
Clinical:
An 82-year old man presented with sudden onset of right sided body weakness and reduced consciousness following a fall at home.
Physical examination revealed a dense right sided hemiparesis with upper and lower limb power of 0/5.
His GCS was 11/15.
He was haemodynamically stable with no evidence of external injury on physical examination.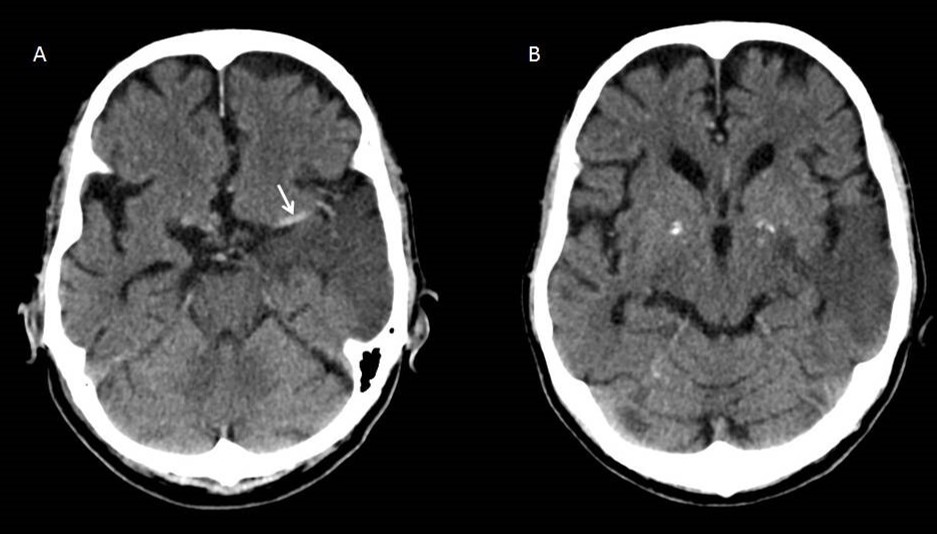 CT scan findings:
Diffuse hypodensity of the left temporal lobe involving both  grey and white matter with effacement of the overlying sulci.
The M1 segment of the left Middle Cerebral Artery (MCA) appeared hyperdense (white arrow).
Diagnosis: Acute left MCA infarct with dense MCA sign
Discussion (dense MCA sign):
The dense MCA sign is the earliest sign of acute ischaemic stroke.
This sign was first reported by Gάcs et al in 1983.
The hyperdense appearance of the MCA is due to formation of thrombus within.
Similar signs of occluded hyperdense vessels have been described of the carotid artery, anterior cerebral artery and the basilar artery.
Causes of dense MCA not related to ischaemic stroke include an elevated haematocrit or calcified atheromatous plaque, these causes however are commonly bilateral.
The presence of the dense MCA sign in acute ischaemic stroke is associated with a poorer outcome, larger volume strokes and more severe neurological deficits.