Clinical:
A 56-year-old man
No known medical illness
Presented with headache and diplopia.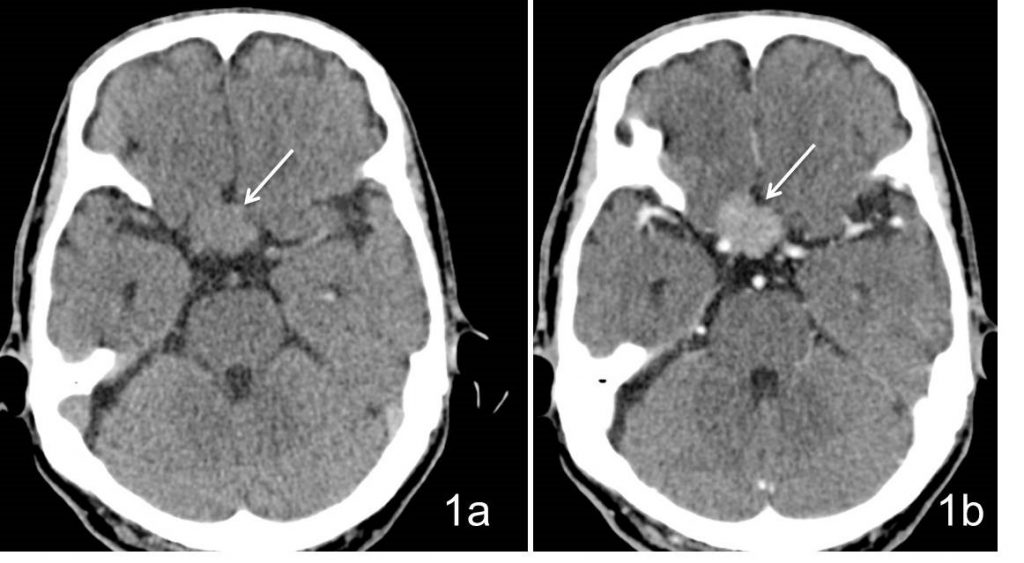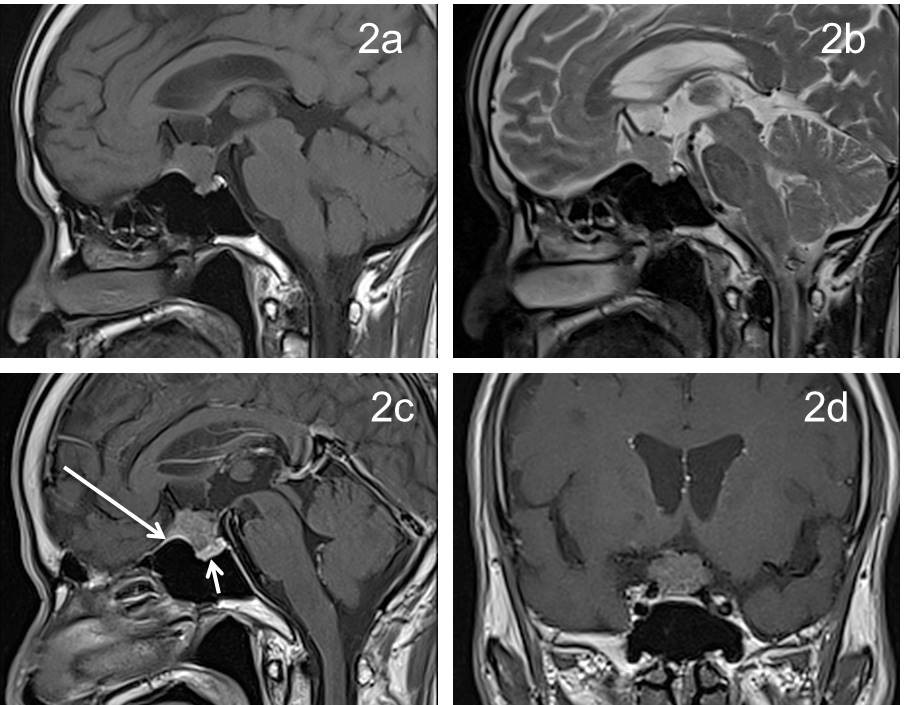 Imaging findings:
The axial CT scan of the brain in soft tissue window without contrast (1a) and with contrast (1b) show a slightly hyperdense lesion at the sella region. There is no calcification within the lesion. The lesion showed intense homogenous enhancement after contrast administration.
Sagittal MRI T1-weighted (2a), T2-weighted (2b), post contrast (2c) and coronal T1-post contrast (2d) images show a suprasellar lesion with intrasellar extension which is isointense to grey matter on T1 and T2-weighted images.
This lesion showed intense contrast enhancement. There is thickening of adjacent dura which also show enhancement (dural tail sign) seen antero-inferior to this mass lesion (long arrow).
The pituitary gland is identified within the pituitary fossa (short arrow).
Diagnosis: Suprasellar meningioma (HPE proven)
Discussion:
Suprasellar meningiomas comprises 5-10% of all cranial meningiomas.
Most of the suprasellar meningiomas originate from the diaphragm sellae.
Differentiation of suprasellar meningioma from pituitary macroadenoma is important because they require different surgical approaches.
Identification of pituitary gland separated from the tumour mass is an important differentiating feature from a pituitary macroadenoma.
Marked sella expansion, necrotic and cystic changes are also commonly seen with large macroadenomas.
CT is often the first modality for assessment. A non-contrast CT showed the lesion to be slightly hyperdense to normal brain in majority of cases. Typically it is broad dural-based. Calcification present in 20-30% of cases. Most of the lesion showed intense homogenous enhancement post contrast. However, malignant or cystic variant demonstrate more heterogeneity in enhancement pattern. Hyperostosis or lytic destruction of the adjacent bones has been reported.
Signal characteristic on MRI mostly will be isointense to grey matter on T1, iso to hyperintense on T2 weighted images. It showed intense and homogenous enhancement post contrast. A dural tail sign seen in 60-72% if cases.
Arterial narrowing is typically seen in meningiomas that encase arteries, a distinguishing feature from pituitary macroadenoma which typically does not narrow vessels.