Clinical:
A 72 years old man
Chronic smoker
Presented with chronic cough and shortness of breath
Also complains of headache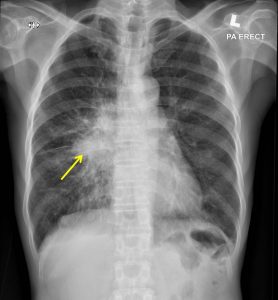 Radiographic findings:
A suspicious ill-defined mass is seen at the right hilum measuring about 6.4 x 5.6cm.
Non-visualization of the hilar vessels.
No mediastinal shift. Trachea is centrally located.
No consolidation. No pleural effusion or pneumothorax.
Heart is not enlarged. No bony abnormality detected.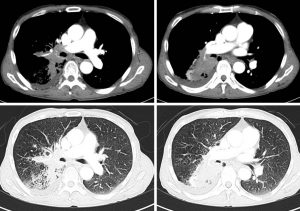 CT scan findings:
There is a heterogeneously enhancing mass predominantly at the right superior basal segment measuring about 6.9cm (AP) x 7.4cm (W) x 6.6cm (CC).
There is also extension into the medial segment of the right middle lobe and posterior segment of the right upper lobe.
The mass is also seen extending to the subcarinal and left peribronchial regions. Narrowing of the branches of the right main bronchus, but no obvious endobronchial mass is observed.
Right pleural effusion is seen, with subsegmental atelectasis of the adjacent lower lobe segments. No pleural nodule seen.
An enlarged hilar node measuring about 1.6cm in short axis (SAD) is seen.
Heart is not enlarged. No pericardial effusion.
Progress of patient:
Endobronchial biopsy done shows adenocarcinoma
CT scan brain shows multiple cerebral metastasis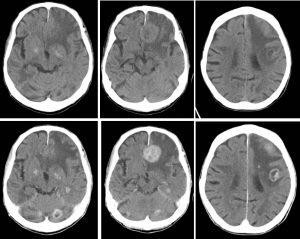 Final diagnosis: Lung adenocarcinoma with cerebral metastasis