Clinical:
A 43 years old lady
No known medical illness
Presented with recent onset seizures
No body weakness
No constitutional symptoms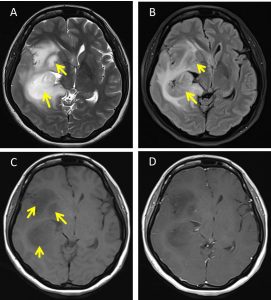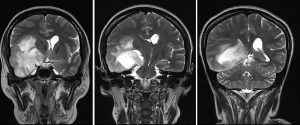 MRI findings:
MRI brain in (A) T2WI, (B) FLAIR, (C) T1WI and (D) T1+Gadolinium sequences
There are intra-axial masses identified within the right frontotemporal region (yellow arrows) involving the right basal ganglia
These masses appear hypointense on T1, hyperintense on T2 and slightly hyperintense on FLAIR sequences. No enhancement on post contrast images.
No blooming artefact is identified on HEMO  sequence (E) to suggest presence of blood product/ calcification.
No area of restricted diffusion is observed on DWI/ADC sequences (F &G).
There is minimal perilesional vasogenic oedema, effacement of the right lateral and 3rd ventricles. Compression effect causing distortion of the midbrain is also seen.
Midline shift to the left of 1.0 cm is observed. No hydrocephalus observed.
HPE findings:
Macroscopy: specimen labelled as brain tumour consists of multiple pieces of whitish tissue
Microscopy: sections from the specimen shows fragments of tumour tissue composed of moderately cellular cells in a background of loosely structured microcytic stroma. The tumour cells exhibit mild nuclear atypia which are enlarged, cigar-shaped nuclei with irregular hyperchromatic nuclei and scanty cytoplasm. No mitosis, necrosis or microvascular proliferation seen. No normal brain tissue identified in this biopsy.
Immunohistochemical studies shows the tumour cells are GFAP positive and Ki67 proliferative index 4%.
Interpretation: Diffuse astrocytoma, WHO Grade II.
Diagnosis: Diffuse astrocytoma.
Discussion:
Also known as Grade II astrocytoma or low grade astrocytoma
It is a primary brain tumour of astrocytic origin with intrinsic tendency for malignant progression, degeneration into anaplastic astrocytoma.
A well-differentiated but infiltrating neoplasm with slow growth pattern
Majority presented between 20-45 years old
Seizure is the most common presenting feature
Supratentorial location in 2/3 of cases and infratentorial in 1/3 of cases
Variable in size
It may extend into cortex, 20% involve deep gray matter structures such as thalamus and basal ganglia
NECT: Ill-defined hypodense/isodense mass, calcification in 20% of cases, cystic component is rare.
CECT: no enhancement or very minimal
T1-MRI: homogenous hypointense mass which may expand white matter and adjacent cortex, appears circumscribed but infiltrates adjacent brain, calcification and cysts are uncommon
T2-MRI: homogenous hyperintense mass with infiltration to adjacent brain, may expand adjacent cortex, hemorrhage and surrounding oedema are rare
FLAIR: homogenously hyperintense mass
DWI: no restricted diffusion
T1+Gadolinium: usually no enhancement, enhancement suggests progression to higher grade
MRS: high choline, low NAA typical but not specific
Median survival: 6-10 years.