Clinical:
A 7 years old boy
alleged fall and left elbow pain.
TRO left supracondylar fracture.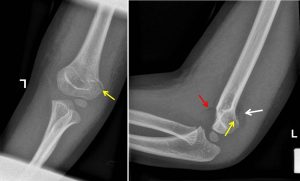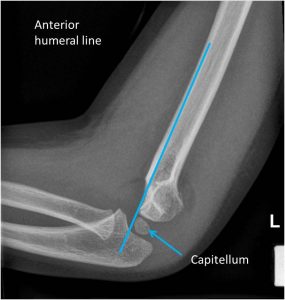 Radiographic findings:
There is  supracondylar fracture with subtle fracture line seen (yellow arrows)
The humeral condyles appear posteriorly angulated.
Elevated anterior fat pad (red arrow).
Presence of posterior fat pad (white arrow)
The anterior humeral line not passing through the capitellum indicating that the condyles are displaced posteriorly.
No dislocation of radius as evidenced by intact radiocapitellar line.
No intraarticular loose body noted.
Radiological diagnosis: Supracondylar fracture of left humerus.
Discussion:
Supracondylar humeral fractures are typically seen in young children, peak age of 5-7 years
These fractures are commonly seen in boys.
These injuries are almost always due to trauma.
Lateral and AP radiographs are usually sufficient to demonstrate an obvious fracture.
However, often fracture line cannot be seen in this type of fracture.
Indirect signs of fracture include

Anterior fat pad sig (sail sign)-anterior fat pad is elevated and appears as a lucent triangle on lateral projection
Posterior fat pad sign
Anterior humeral line do not intersect middle third of capitellum