Case contribution: Dr Radhiana Hassan
Clinical:
A 23 years old lady
No known medical illness
Presented with tingling and pulling sensation of the left side of the face for the last few months
Associated with reduce hearing left side and tinnitus.
Clinical examination shows left facial nerve palsy, House Brackmann Grade III.
Audiometry: conductive hearing loss of left ear.
Otoscopy left ear: Dull TM, distorted malleolus.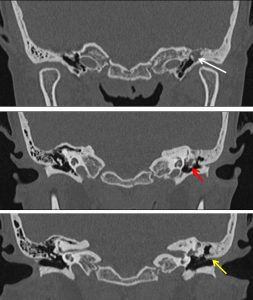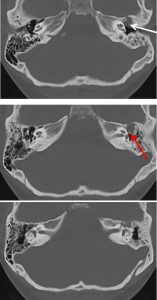 CT scan findings:
Left external ear canal and tympanic membrane is intact.
There is soft tissue density (mean HU 32) within the left middle ear cavity (white arrows), involving the mesotympanum, epitympanum and Prusak space.
Hypotympanum is clear.
Associated erosion to the tegmen tympani with blunted of scutum are noted (yellow arrow).
The normal appearance of incudo-malleolar joint is not seen, suggestive of disruption (red arrows).
Suspicious involvement of the tympanic segment of facial nerve is seen.
The inner ear structures are normal in appearance and intact. No evidence of semicircular canal or facial nerve dehiscence.
There is fluid density within the left mastoid air cells which associated with bone remodelling. The aditus ad antrum is otherwise clear.
Diagnosis: Cholesteatoma (HPE proven)
Discussion:
Cholesteatoma is a well-demarcated non-neoplastic lesion in the temporal bone.
The annual incidence of cholesteatoma is reported as 3-9 cases per 100 000 population.
It is classified based on either the pathogenesis or the location in the middle ear cavity in relation to the tympanic membrane.
HRCT is the imaging of choice due to its high sensitiviy. Typical findings include a sharply marginated expansile soft tissue lesion, retraction of the tympanic membrane, blunting of scutum and erosion of the tympanic tegmen and ossicles.
Progress of patient:
Operation done in another hospital
EUM with combined approach tympanoplasty and tympanoplasty type Vb
Confirmed cholesteatoma
Uneventful recovery
Follow up assessment 2 months after surgery shows minimal left facial asymmetry, able to close eyes but not fully, minimal drooling of saliva when drinking.