Case contribution: Dr Radhiana Hassan
Clinical:
A 20 years old man
Involved in motor vehicle accident
Complaint of abdominal pain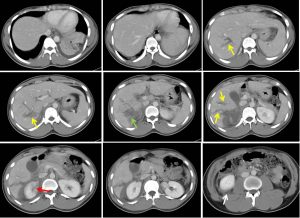 CT scan findings:
There are multiple lacerations within the liver parenchyma (yellow arrows)
These lacerations are short lacerations measuring less than 10 cm in length
A small hematoma also seen in Segment VI (green arrow)
Right renal contusion seen as relatively less enhancing renal parenchyma (red arrow)
There is associated perinephric streakiness (white arrow)
Diagnosis: Blunt traumatic injury of liver and right renal
Discussion:
Liver is the commonest organ to be injured in blunt trauma
It can be seen up to 25% of severely injured patient in trauma.
CT has high sensitivity in detection of these injuries.
Renal injuries occur frequently among patients who sustain blunt abdominal trauma. However, majority are minor and can be managed conservatively.
Progress of patient:
Patient was managed conservatively
He recovered well