Case contribution: Dr Radhiana Hassan
Clinical:
A 65 years old man
Underlying DM, HPT
Also had bilateral staghorn calculi. PCNL done for the left renal calculus.
Presented with fever, dysuria and suprapubic pain for 3 days.
Associated with chills and rigor. No hematuria.
Noted low BP and started on medication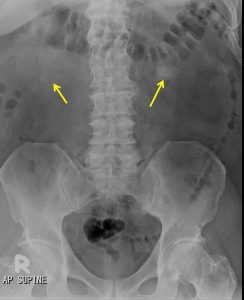 Radiographic findings:
Faint opacities seen overlying both renal shadows (yellow arrows)
The renal outline is partially obscured by bowel gas  and fecal material
Obliteration of both psoas outline
Degenerative change of the spine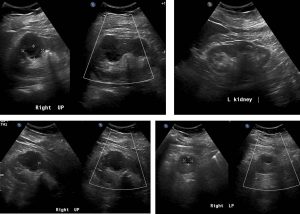 Ultrasound findings:
 There is a fairly well-defined multiseptated lesion at upper pole of right kidney measuring about 4.0 cm x 4.7 cm (AP x W). No intralesional debris, calcification or increased vascularity seen within.
Another small well-defined anechoic lesion is seen at lower pole of right kidney which measures about 1.5 cm x 1.5 cm (AP x W). No intralesional septation or increased in vascularity seen.
There is echogenic calculus with posterior shadowing seen occupying the right renal pelvis likely represents staghorn calculus.
No focal lesion  within the left kidney. No hydronephrosis or hydroureter seen bilaterally.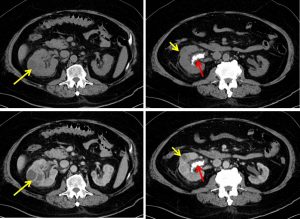 CT scan findings:
There are several rim-enhancing hypodense lesions seen in both kidneys.
The largest of these lesions is seen in the right kidney interpolar region measuring 3.5 x 3.9 x 3.9 cm (AP x W x CC). This particular lesion can be seen to contain multiple septations. This lesion causes a focal bulge on the renal outline.
No calcification or air pocket is seen within all of these lesions.
Minimal fat streakiness is observed in both perinephric fat, more apparent on the right side. Both Gerota and Zuckerkandl fascias are intact bilaterally.
Multiple calculi are again seen occupying the right renal pelvis, forming a staghorn calculi.
Diagnosis: Renal abscesses.
Progress of patient:
Patient had an episode of atrial flutter secondary to sepsis during admission
Percutaneous US guided drainage done.
About 20mls of thick haemopurulent fluid was aspirated and sent for laboratory investigations (no growth).
Post aspiration shows significant reduction in abscess size.
Patient recovered well.
Discussion:
Renal abscess is a collection of infective fluid in the kidney.
It is usually develop as a sequelae of acute pyelopnephritis
It can affect all ages with no sex predilection
Predisposing factors include: DM, renal calculi or ureteral obstuction
On ultrasound, a renal abscess appears as a well-defined hypoechoic area within the cortex. It demonstrate internal echoes within. Associated diffusely hypoechoic kidney due to acute pyelonephritis has been reported. Perinephric collection may also be seen.
CT scan is the most accurate modality for diagnosis and follow-up of renal abscesses.
An abscess appears as a well-defined mass of low attenuation with a thick, irregular wall or pseudo capsule, which is better visualized on contrast enhanced scans.
Gas within a low attenuation/cystic mass strongly suggests abscess formation.
Associated fascial and septal thickening is seen with obliteration of perinephric fat.