Case contribution: Dr. Radhiana Hassan
Clinical:
An 87 years old lady
Underlying DM and HPT.
Presented with left sided body weakness.
Associated with slurred speech.
On examination E3V2M6. Power left upper and lower limb 0/5.
BP 239/112 mmHg.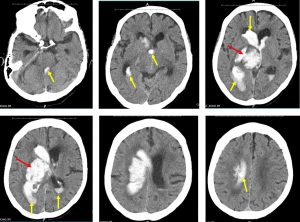 CT scan findings:
There is a large hyperdensity in the right basal ganglia (red arrows) measuring about 4.3x 4.4×4.3 cm (AP x W x CC) in keeping with acute hemorrhage.
There is extension of hemorrhage into the lateral, third and fourth ventricles (yellow arrows).
Midline shift to the left measuring about 10 mm.
Effacement of the adjacent cerebral sulci.
Underlying cerebral atrophy.
Diagnosis: Acute right basal ganglia hemorrhage with intraventricular extension.
Discussion:
Basal ganglia hemorrhage is a common form of intracerebral hemorrhage
It is a neurologic emergency that requires immediate imaging and neurosurgical referral
The most common cause is poorly controlled long-standing hypertension
Typically seen on CT scan as a region of hyperdensity centered on the basal ganglia or thalamus. Not infrequently there may be an extension into the ventricles.
Volume of the hemorrhage may be estimated by APxWxCC/2 formula, which may have neurosurgical and prognostic implications (only parenchymal hemorrhage not intraventricular extension).
The mainstay of treatment is medical, with control of hypertension and attempts to prevent secondary cerebral injury.
If an intraventricular hemorrhage is present then hydrocephalus is a common sequelae and CSF drainage with an extra-ventricular drain is often needed.
Evacuation of the clot is controversial and only potentially useful in large (>60 mL) hemorrhage.