Case contribution: Dr Radhiana Hassan
Clinical:
A 38 years old with underlying thalassemia major
Had 3 monthly blood transfusion
Baselin Hb=6.0 g/dL
On iron chelation therapy
Admitted for fever and sepsis
Diagnosed as dengue fever (positive IgM) and meliodosis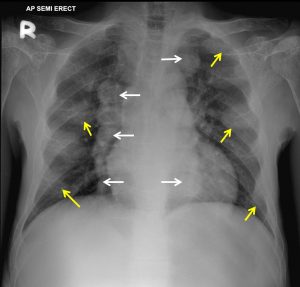 Chest radiograph findings:
Expansion of anterior ribs at multiple levels and bilateral (yellow arrows)
Presence of lobulated mediastinal mass with clear outline (white arrows). No calcification within.
No lung lesion is seen.
No cardiomegaly. No pleural effusion.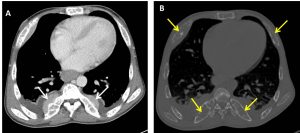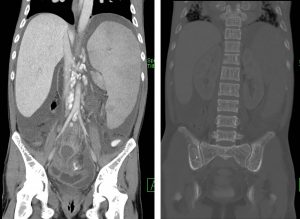 CT scan findings:
Generalised osteopenia with irregular trabecular pattern are seen.
Bony expansion ribs are also noted.
Lobulated well-defined paraspinal masses are seen.
Liver and spleen are enlarged.
Diagnosis: Extramedullary hematopoiesis
Discussion:
Hemopoiesis is the formation and maturation of blood elements which normally occurs in the marrow of long bones, the ribs, and the vertebrae in adults.
When the primary sites of hemopoiesis in the adult fails, various extramedullary sites take on the role of blood formation.
Extramedullary hemopoiesis favors certain sites such as the liver, the spleen, and the paraspinal regions of the thorax.
In the thorax, the most common imaging manifestations are paraspinal masses and rib expansion. Rib or diploic space expansion is not uncommon.
Cases of extramedullary hemopoiesis involving the pulmonary interstitium have been reported and have occasionally resulted in cardiopulmonary insufficiency.
Paraspinal hemopoietic tissues can extend into the central canal, especially in the thorax, and cause neurologic symptoms because of spinal cord compression.
Diffuse hepatosplenomegaly is also a common finding.