Case contribution: Dr Radhiana Hassan
Clinical:
A 61 years old lady
Presented with left sided facial, upper and lower limb numbness.
No weakness.
GCS 15/15. Power full.
CT brain showed left occipital hyperdense lesion.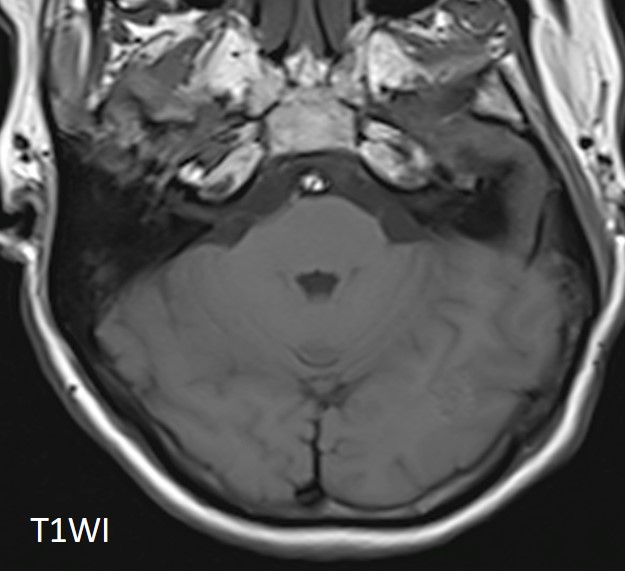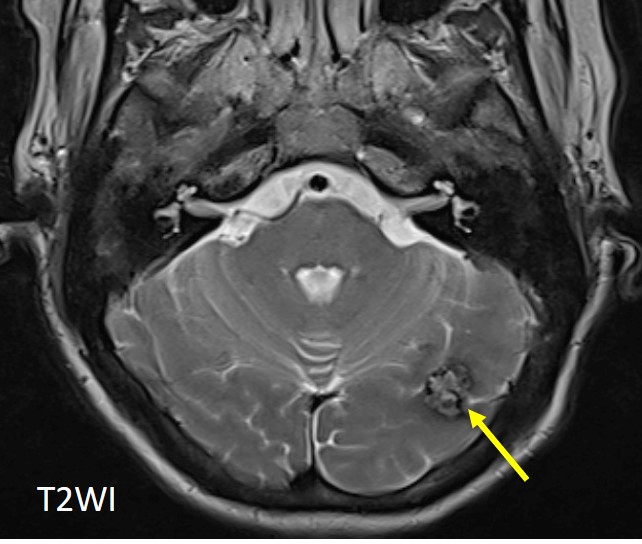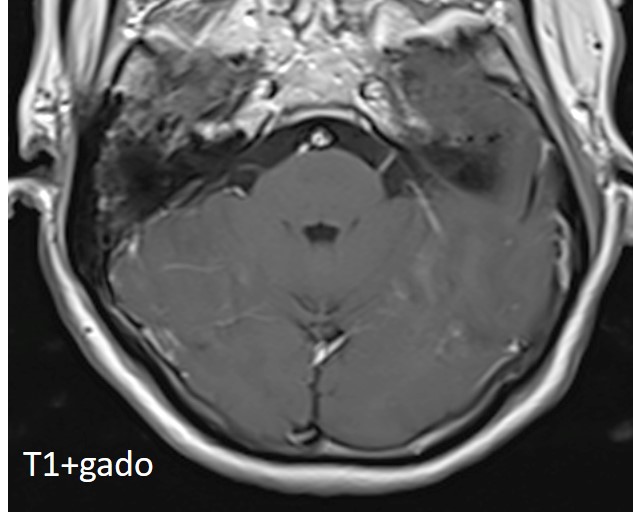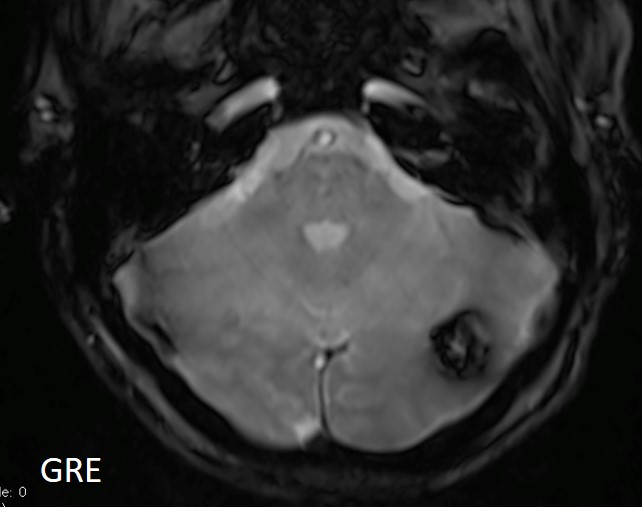 MRI findings:
There is a solitary lesion in the left occipital lobe.
It is faintly hyperintense on T1, has mixed central signal intensities and hypointense rim on T2 (yellow arrow), faint enhancement on post contrast image and show blooming susceptibility artefact seen on GRE sequence.
It measures 1.5cm (W) x 1.1cm (AP) x 0.9cm (CC).
No feeding arteries or draining veins seen from this lesion.
No nidus seen. No perilesional oedema. MRI features are suggestive of a cavernoma.
Histopathological result:
Macroscopy: Specimen labeled as left occipital tumour consists of a piece of soft pinkish tissue measuring 20 x 13 x 6 mm. It is bisected and entirely submitted in 1 block.
Microscopy: Section shows glial tissue having unencapsulated vascular malformation composed of closely apposed, engorged vessels (CD31 positive) composed of solely fibrous tissue, devoid of intervening neuroglial tissue. The adjacent glial tissue shows haemosiderin-laden macrophages. Focal calcification is seen. The vascular malformation is on the excised margin.
Diagnosis: Left occipital brain tumour, cavernous angioma
Discussion:
Cavernous angioma is a cerebral cavernous venous malformations, also known as cavernous hemangioma or cavernoma
Most patient present symptomatically 40-60 years, most patient had single lesion
Most lesion remain asymptomatic and found incidentally
Most common presentation: hemorrhage
MRI is the modality of choice demonstrating a characteristic "popcorn" appearance with a rim of signal loss due to haemosiderin, which demonstrates prominent blooming on susceptibility weighted sequences.
T1 and T2 signal is varied internally depending on the age of the blood products.
Gradient echo or T2* sequences are able to delineate these lesions better than T1 or T2 weighted images. In patients with familial or multiple cavernous angiomas GRE T2* sequences are very important in identifying the number of lesions missed by conventional spin echo sequences.
If a recent bleed has occurred then surrounding oedema may be present.
Progress of patient:
Craniotomy and tumour excision done
Follow up MRI after 6 months showed no residual lesion