Clinical:
A 59 years old man
Underlying DM, HPT and hyperuricaemia
Alleged fall at home, missed steps and landed backward
No loss of consciousness, no vomiting, no headache, no blurred vision
Complaint of scalp swelling at left temporoparietal region
Examination showed GCS 15/15, no neurological deficit
Skull radiograph showed no depressed skull fracture
Patient was discharged home
Presented again after 2 days with severe headache and vomiting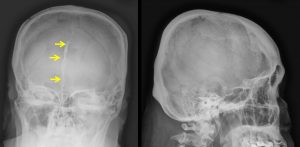 Radiographic finding:
Skull radiograph do not demonstrate any fracture line.
An incidental finding of calcification, most probably  falx calcification
No obvious soft tissue haemotoma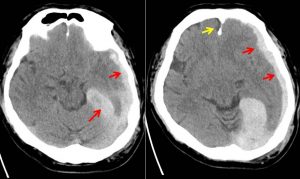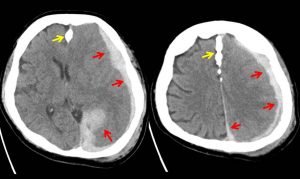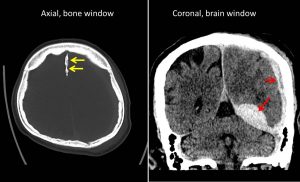 CT findings:
Urgent non-contrast CT brain done
Acute subdural haemorrhage (red arrows) is seen at left cerebral hemisphere causing compression to the underlying brain parenchyma, particularly at the left temporal -parietal lobe.
It extends to left interhemispheric fissure and left tentorium
It has the maximum thickness of 2.0 cm at left tentorium.
It is associated with effacement of the adjacent sulci and right lateral ventricle. Poor grey white matter junction differentiation of the left cerebral hemisphere in keeping with cerebral oedema
There is about 1.1 cm midline shift to the left.
Prominent temporal horn of the left lateral ventricle noted, in keeping with obstructive hydrocephalus.
No skull fracture. Falx calfication (yellow arrows) as noted on skull radiograph
Scalp hematoma at left parieto-occipital region.
Diagnosis: Acute left subdural haemorrhage
Discussion:
Subdural haemorrhage is accumulation of blood in potential space between pia-arachnoid membrane with dura mater
Elderly patient is predisposed to this type of injury due to longer bridging veins in senile brain atrophy
No consistent relationship with skull fracture
CT scan shows  crescent-shaped hyperdensity at cerebral convexity with frequent extension to interhemispheric fissure and along tentorial margins
Haematoma freely extending across suture lines, but do not cross midline
Can be bilateral in 15-25% (adults) and 80-85% (infants)
Mortality rate 35-50% due to various associated injuries
Progress of patient:
Patient deteriorated with drop in GCS
Left decompressive craniectomy with duroplasty performed
Develop new onset AF
Septic shock secondary to pneumonia
Died 8 days after admission