Clinical:
A 63 years old lady
Day 8 post laparotomy for multiple liver abscess
Developed sudden onset blurring of vision and diploplia
Clinical examination showed isolated impaired adduction with nystagmus of right eye
CT Brain done showed no abnormality
MRI requested to rule out brain stem lesion with clinical diagnosis of right internuclear opthalmoplegia (INO)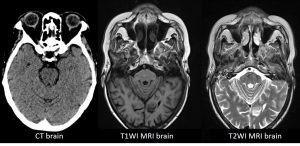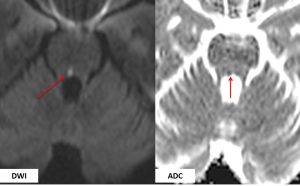 Imaging findings:
CT scan did not demonstrate any abnormality
MRI shows a small focal hyperintense lesion in the right side of the rostral pons, anterior to the roof of the 4th ventricle. This lesion show fluid restriction on DWI . No significant enhancement post contrast. The lesion is not seen on other sequences.
Diagnosis: Acute infarction in the right rostral pons causing internuclear opthalmoplegia
Discussion:
Internuclear ophthalmoplegia (INO) is a disorder of eye movement, classically
characterized by impaired adduction on the side of a lesion with dissociated nystagmus of the abducting eye.
INO in young patients is most commonly caused by multiple sclerosis
INO in older age group is mostly caused by cerebrovascular disease
Other rare causes of INO include brain stem tumour, haemorrhage, trauma, infection, Wernicke encephalopathy, drugs and degenerative disorder
INO is caused by lesions involving the MLF (medial longitudinal fasciculus) which lies in the pontine tegmentum