Case contribution: Dr Norzaini Rose Mohd Zain
Clinical:
A 58 years old female lady was previously working as a secretary.
She presented with rather rapid deterioration of cognitive function in the last 2 to 3 years.
On examination, Mini Mental State Examination (MMSE) was 5/30, and her condition was associated with severe Behavioural and Psychological Symptoms of Dementia (BPSD).
Clinical suspicion was Alzheimers Disease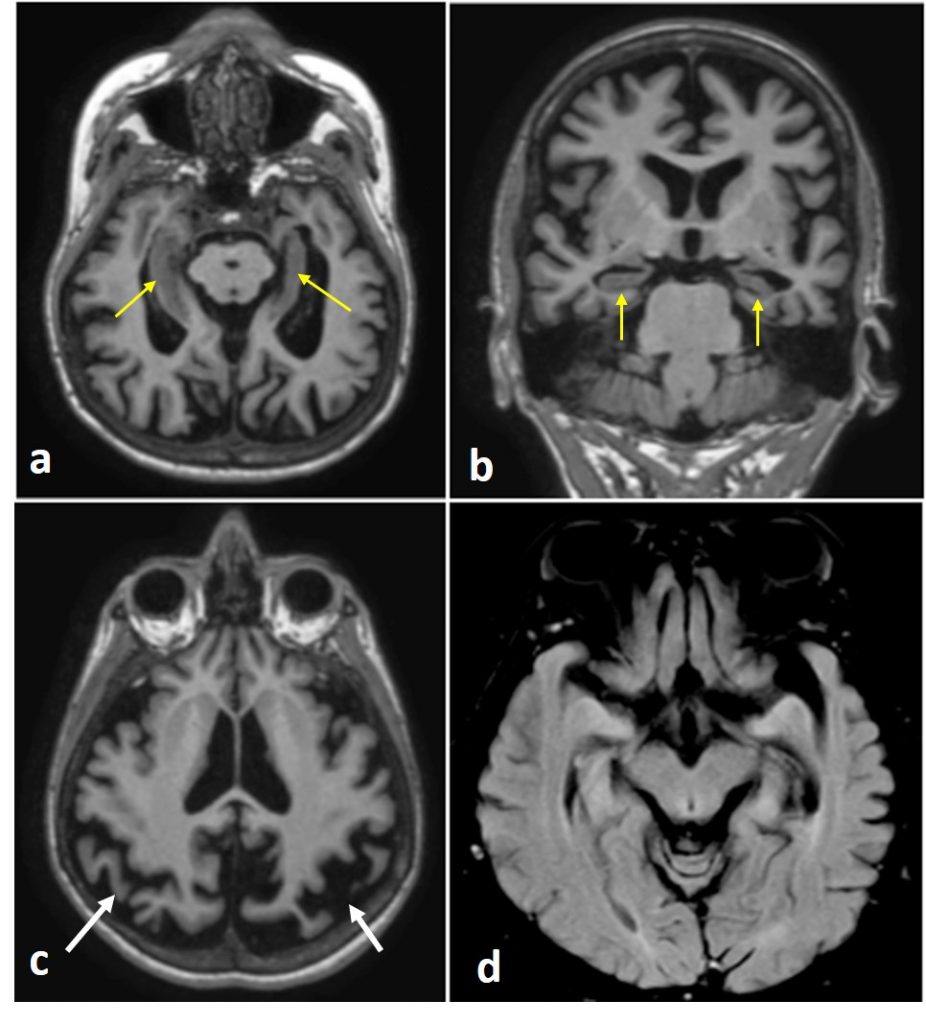 MRI findings:
Reformatted T1-MPRAGE images perpendicular to the hippocampus in axial (a) and coronal (b) planes demonstrate bilateral hippocampii atrophy (yellow arrows), which is worse on the left.
In (c) there is also focal atrophy of temporo-parietal lobes (again worse on the left) in the background of global cerebral atrophy (white arrows).
In (d) axial FLAIR image, the atrophic hippocampii show normal signal intensity.
Diagnosis: Alzheimer Disease
Discussion:
Alzheimer disease (AD) is a progressive neurodegeneration condition that leads to cognitive decline, impaired ability to perform the activities of daily living and a range of behavioural and psychological conditions, as in this patient.
Grossly the brain affected by AD shows generalised atrophy and shrunken gyri, widened sulci and enlarged ventricles especially the temporal horns.
Changes are most marked in the medial temporal lobe and temporo-parietal lobes.
The frontal lobe is commonly involved, while the occipital lobe and motor cortex are relatively spared.
MRI reflects this pathological findings by demonstrating atrophy of  the areas that are involved.
AD has distinct clinico-pathological subtypes. The hippocampus is severely affected in 75% of cases. Relative hippocampal sparing is seen in 10% and limbic predominance accounts for 15% of AD cases.
Typical neuropsychological profile for AD patients is memory impairment, but do note that some may present with atypical presentation such as Balint syndrome, language and frontal (executive dysfunction/behavioural) presentation
The MRI must include a thin cut isotropic 3D images to allow image reformatting for better assessment of atrophy and corrects asymmetry in the brain that can mislead the radiological interpretation.