Case contribution: Dr Raja Rizal Azman
Clinical:
A 40-year old  man
No known medical illness before
Presents with three episodes of tonic clonic seizures over a period of two weeks with associated loss of consciousness.
There was no residual weakness following resolution of seizure activity.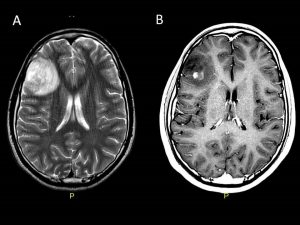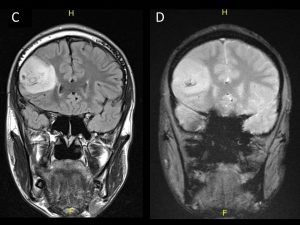 Imaging findings:
A mass is seen in the right frontal lobe with cortical involvement appearing heterogeneously hyperintense on T2-weighted images (A) with areas of enhancement post gadolinium centrally (B).
The lesion exhibits heterogemous hyperintense signal on FLAIR (C).
T2*GRE sequences show focal areas of low signal within with blooming artefact (D).
Diagnosis: Oligodendroglioma (HPE proven)
Discussion:
Oligodendrogliomas are the third most common glioma accounting for 5-18% of all glial neoplasms.
The commonest presentation is with seizures with a peak incidence occuring in the 4th and 5th decades.
A small proportion occurs in children.
The frontal lobe is the commonest location (50-65%) followed by the temporal (47%) and parietal lobes (7- 20%).
On CT oligodendrogliomas are usually heterogenously iso to hypodense.  A large proportion (70-90%) will exhibit calcifications.  Half of the lesions will exhibit enhancement.
MRI typically shows a lesion appearing hypointense on T1 and hyperintense on T2.  There is usually very little associated perilesional oedema. Areas of low signal on T2 and T2* sequences correspond to calcification.  As on CT, 50% of these lesions will exhibit heterogenous enhancement.
The presence or absence of enhancement has not been shown to be a reliable indicator of tumor grade.