Clinical:
A 26 years old man
Non-smoker with no previous medical illness
Presented with chronic cough and constitutional symptoms
Completed TB vaccination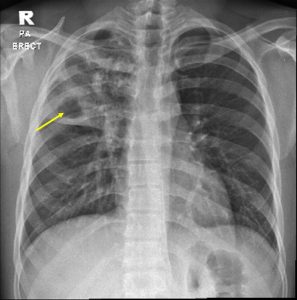 Radiographic findings:
A large cavitating lesion with surrounding consolidation is seen at the lower part of right upper lobe.
There are multiple small cavitating lesions involving the rest of right upper lobe.
No hilar mass. No mediastinal shift.
Other part of the lungs are clear.
No pleural effusion or pneumothorax. No hilar mass.
Cardiothoracic ratio is normal.
Bones and soft tissues are unremarkable.
Diagnosis: Pulmonary tuberculosis (sputum positive).
Discussion:
Tuberculosis is an airborne infectious disease caused by Mycobacterium tuberculosis
Cavitation is uncommon in primary tuberculosis, seen in only 10-30% if cases
Post-primary infections are far more likely to cavitate than primary infections. In the vast majority of cases, they develop in the posterior segments of the upper lobes (85%).
However, more typical appearance of post primary tuberculosis is that of patchy consolidation or poorly defined linear and nodular opacities.
Hilar nodal enlargement is seen in only approximately a third of cases.
Lobar consolidation, tuberculoma formation and miliary TB are also recognised patterns of post-primary TB but are less common.
Progress of patient:
Patient shows good response to treatment clinically
A repeat chest radiograph after two months of medical treatment shows reduction in size of the cavity