Clinical:
A 52 years old lady
Complaint of abdominal distension
Slowly growing in size
No obstructive symptoms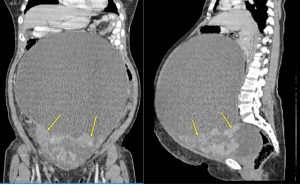 CT scan findings:
A huge abdominopelvic mass
Mainly cystic in density with solid areas inferiorly (yellow arrows)
The solid components shows enhancement post contrast
No fat component within the mass
No calcification, no ascites
Clear plane of demarcation with surrounding structures
The bowel loops are displaced peripherally
The uterus is also displaced to the left side
HPE findings:
Macroscopy: specimen consists of uterus, cervix, a huge left ovarian mass, right ovary and both fallopian tubes weighing 2250 gms. The left ovarian mass measures 220x180x110 mm. On cutting open it shows multiloculated solid cystic tumour with the locules measure 20-180 mm in diameter. It contains greenish serous fluid. The solid area composed of grey-white cut surface with multiple small cystic spaces seen. The wall measures 3-25 mm in thickness. A small perforated cyst wall is noted.
Microscopy: sections from the left ovarian mass show mildly atypical mucinous epithelium arranged in papillary structures and glands. The cells have basally located nuclei in areas showing nuclear pseudostratification. Mitosis is rarely present. There is absence of stroma invasion. The capsule is not penetrated. No tumour implant to uterus, right ovary and both fallopian tubes.
Interpretation: left ovary: mucinous cystadenoma of borderline malignancy.
Diagnosis: Ovarian mucinous cystadenoma of borderline malignancy
Discussion:
Borderline ovarian tumours are uncommon but not rare epithelial ovarian neoplasms.
Six histologic subtypes are distinguished based on the epithelial cell type:

similar to invasive carcinomas,
comprising serous (50%) and mucinous (45%),
endometrioid,
clear cell,
seromucinous, and
borderline Brenner tumor.

The vast majority are limited to the ovary(ies) at presentation with 75% being diagnosed at FIGO stage I, compared to only 10% of ovarian carcinomas diagnosed at an early stage.
Mucinous borderline tumours (synonymous atypical proliferative mucinous tumours) are the second most common type and account for about 35 to 45% of ovarian borderline tumours.
These tumours are usually large, unilateral, and cystic with a smooth ovarian surface, composed of multiple cystic spaces with variable diameter.
The vast majority have an excellent prognosis with overall survival approaching 95–100%.