Clinical:
A 64 years old lady
Underlying DM and HPT
Complaint or recurrent right flank pain
Noted right hydronephrosis on ultrasound KUB
For further assessment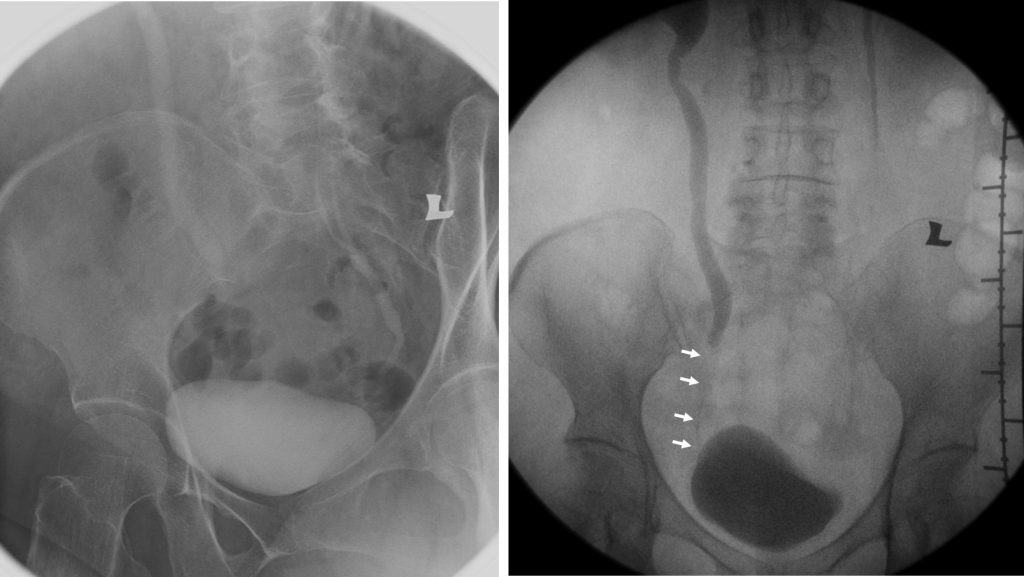 Imaging findings:
Intravenous urography was performed. No radiopaque calculus noted on preliminary image taken (image not shown).
There is right hydronephrosis (yellow arrow) with right hydroureter. The ureter is seen to be dilated until its distal third within the pelvis. An abrupt change of calibre with smooth narrowing of the distal ureter (white arrows). It is seen involving long segment until its insertion into the urinary bladder. No obvious filling defect is seen within it.
There is duplex system of the left kidney (red arrows). Two separate ureters are seen draining this duplex system. However the two ureters fused at its distal third within the pelvis and drain into the urinary bladder as one. No dilatation of the collecting system.
Urinary bladder is normal in outline. Minimal indentation of its superior surface most likely from the uterus.
No significant urinary retention post contrast.
Right ureteric stricture causing hydronephrosis and hydroureter
Left duplex system
Diagnosis: Right ureteral stricture causing hydronephrosis and hydroureter with incidental finding of left duplex system.
Discussion:
A ureteral stricture is characterized by a narrowing of the ureteral lumen, causing functional obstruction.
Causes of ureteral stricture include iatrogenic injury during surgery, as complication of procedure in managing kidney stones, radiation therapy, tumours, auto immune or congenital.