Case contribution: Dr Radhiana Hassan
Clinical:
A 50 years old man
Underlying hypertension and gouty arthritis on medication
Presented with hematuria
US at GP reported as renal calculus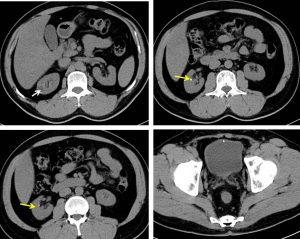 CT findings:
There are multiple small right renal calculi (yellow arrows)
No hydronephrosis seen
A small cortical cyst at right kidney
A hyperdense focus seen at anterior wall of urinary bladder (red arrows) at non-dependent region. On sagittal plane it is at the site of urachal remnant. No obvious diverticulum noted. No wall thickening or soft tissue density.
Diagnosis: Urachal remnant calcification and renal calculi
Discussion:
Calcification at the insertion of a urachal remnant into the urinary bladder is a rare differential diagnosis in patients with a calcific density at bladder region
Other causes of calcification at the bladder wall include:

Primary bladder tumours: important causes of bladder calcification, most commonly transitional cell carcinoma. CT is not the first line investigation for primary bladder malignancy, but if the bladder is distended CT can demonstrate focal bladder wall thickening.
schistosomiasis: in the appropriate patient demographic, it should be considered as a cause of urinary bladder calcification. It is the most frequent cause of bladder wall calcification worldwide. However, this calcification is usually arcuate and associated with calcification in other areas of the urinary tract
Tuberculosis: another infection that can result in urinary bladder calcification. Calcification of the upper renal tract is usually observed prior to spread to the distal ureters and bladder
Inflammation within the bladder can proceed to calcification. This has been documented in cyclophosphamide-induced cystitis.
Amyloidosis is another inflammatory condition that has been associated with urinary bladder calcification, albeit rarely