Case contribution: Dr Radhiana Hassan
Clinical:
A 57 years old
Underlying DM and HPT
Presented with sudden onset altered consciousness
No trauma, no fever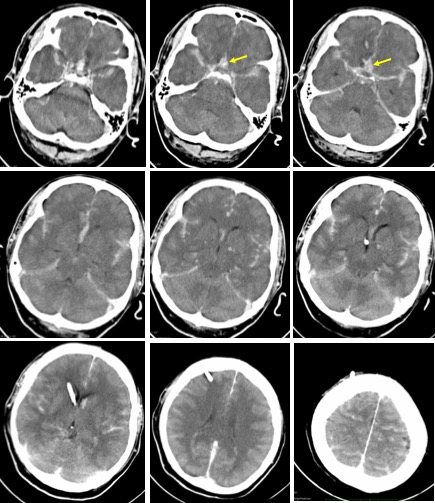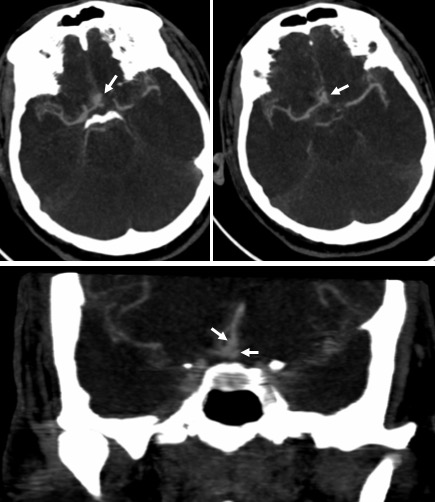 CT scan findings:
There is extensive subarachnoid haemorrhage predominantly in the anterior interhemispheric fissure (yellow arrows), also in both sylvian fissures, and in the suprasellar cistern extending to involve sulci of both cerebral hemisphere.
No intraparenchymal or intraventricular extension of hemorrhage.
Diffuse cerebral oedema is seen.
There is no hydrocephalus with drainage catheter in-situ
CTA shows two saccular aneurysms from the anterior communicating artery (white arrows). The aneurysms are projecting superior and anteriorly. The superior aneurysm measures 5.4×3.7 mm and neck is 3.7 mm. The anterior aneurysm measures 7.2 x 5.9 mm.
No contrast extravasation seen.
Diagnosis: ACOM (anterior communicating artery) aneurysms.
Discussion:
ACOM aneurysms represent 30-35% of intracranial aneurysms
Ruptured ACOM aneurysm results in hemorrhages in the gyri recti, anterior interhemispheric fissure, septum pellucidum and frontal horns of the lateral ventricles
There is an association between anterior communicating artery aneurysms and the presence of an azygous or fenestrated anterior cerebral artery
Progress of patient:
Surgical treatment with clipping of the aneurysms was done.