Case contribution: Dr Radhiana Hassan
Clinical:
A 37 years old lady
Underlying thallassemia trait, not on blood transfusion
History of taking traditional herbs (jamu)
Had deranged liver enzymes detected a few years ago, defaulted follow up
Presented again with intermittent abdominal pain associated with nausea and vomiting for one year
No jaundice, no pale coloured stool
Clinically well with no sign of liver disease
Hepatitis screening was normal.
AFP =2.3 IU/mL (normal)
LFT shows increased AST and ALT( Alb 41, AST 69, ALT 122, ALP 88 and Bilirubin 8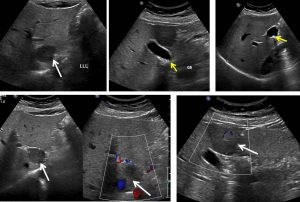 Ultrasound findings:
The liver is normal in size and shows smooth outline with normal parenchymal echogenicity.
There are well defined hypoechoic lesions seen in the liver; in Segment I measures 2.6 cm x 3.1 cm. and Segment IV measures 3.5 cm x 3.0 cm.
On colour Doppler examination, these lesions show scanty vascularity.
No calcification or cystic component is seen within them.
The gallbladder is well distended with multiple small stones seen within it. The largest stone measuring about 0.7 cm is seen sitting in the body of the gallbladder. The gallbladder wall is not thickened and there is no pericholecystic fluid detected.
The portal vein and the CBD are not dilated.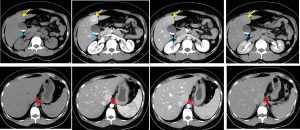 CT scan findings:
Two liver masses with similar enhancement characteristics are observed involving segments I and IVb of the liver.
They appear almost isodense to the rest of the liver parenchyma on plain acquisition, before demonstrating almost homogenous enhancement with a central hypodensity on arterial phase.
The lesion subsequently fades on portovenous phase, with only mild homogenous enhancement observed.
Almost total washout of contrast observed in delayed acquisition, with subtle enhancement of the previously non-enhancing central hypodensity. This delayed central enhancement is best appreciated on the segment IVb lesion.
No significant mass effect is exerted by the masses with relative preservation of the liver contour noted.
 Liver margin is smooth. No intrahepatic biliary dilatation.
Multiple small stones are seen in the gall bladder. The gall bladder wall is not thickened with no pericholecystic fluid noted.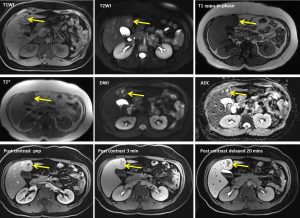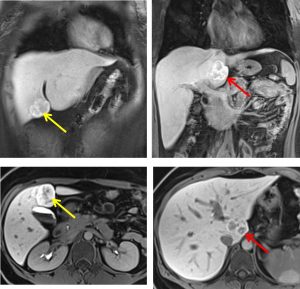 MRI findings:
There are two lobulated liver lesions seen at segment I and segment IVb
Each measuring 2.5 cm (AP) x 3.2 cm (W) x 3.6 cm (CC) and 3.7 cm (AP) x 3.9 cm (W) x 3.5 cm (CC).
It appears lobulated with presence of central scar.
The lesion is isointense to the liver on T1W and isointense on T2W.
The central scar appears hyperintense on T2W.
No signal dropout on out-of phase image.
On dynamic contrast, both of the lesions show arterial enhancement and isointense on portal venous phase to the liver.
On delayed 20 minutes, the lesion shows marked peripheral ring-like enhancement with hypointense central scar.
No washout noted on portal venous or delayed 20 minute phase.
HPE findings:
Macroscopy: Specimen labelled Segment IV liver lesion. Cut section show a circumscribed, unencapsulated solitary lesion with central stellate scar, radiating extensions that partially surround some component nodules measuring 40x35x20 mm. No hemorrhage or necrosis seen.
Microscopy: Sections show benign hepatocellular nodules arranged in plates no more than two cells thick, surrounded by fibrous septa. The central scar contains large dystrophic vessels and numerous small arterioles. The radiating branches of scar contain portal tract like stuctures with arteries unaccompanied by portal vein and ducts. Mild to moderate inflammatory cells infiltrate in the stroma are noted, consisting of neutrophils and lymphocytes. In areas, steatosis are also identified. Ductal reaction are present at the septal-parenchymal interface. Negative for malignancy.
Impression: Segment IV lesion: focal nodular hyperplasia
Diagnosis: Focal nodular hyperplasia
Discussion:
FNH is the second most common hepatic tumour after hemangioma
It occurs primarily in young women
No association with use of oral contraceptive pills
It is solitary in 75-80% of cases
It typically located at subcapsular region and may be pedunculated
It is a non-encapsulated lesion, but in a small percentage presence of partial or complete fibrous capsule is seen
It frequently contains a central or eccentric fibrous scar
On NECT, it usually appears as a homogenous isodense or slightly hypodense mass. In 1/3 of cases, a well-defined hypodense scar may be identified
On CECT, it shows marked enhancement during arterial phase and becoming hyperdense compared to hepatic parenchyma. The enhancement pattern is usually homogenous except at the scar and fibrous septa region
Feeding hepatic arteries and draining veins can be identified in large lesion
During hepatic parenchymal phase the lesion is isodense relative to liver parenchyma
The fibrous scar if present remains hypodense hypodense on arterial phase and enhancement seen on delayed images.
On plain MRI, FNH often has signal characteristic similar to hepatic parenchyma.
Rarely, hyperintensity within the lesion on T2WI are seen which represent fatty change, sinusoidal dilatation, or copper accumulation.
Central scar is identified in most cases and characteristically hypointense on T1, hyperintense on T2 due to presence of central duct and vascular channels
After contrast administration the features are similar to CECT findings.
Progress of patient:
Laparoscopic cholecystectomy and segment IVb liver resection done
Gallbladder well distended with multiple pigment stone within
Stomach, bowel and spleen appears normal
CBD seen with no stone within
Post operatively well
Hb remain 9g/dL and upon discharge AST 49, ALT 92, ALP 62, Bilirubin 10 and Alb 37