Case contribution: Dr Radhiana Hassan
Clinical:
A 43 years old man
History of fall from motorbike about one week ago. Described as low impact injury but he fall with handle of motorbike hit left side of abdomen.
Having abdominal pain since then which gradually increased in severity.
BP=128/72 mmHg, PR=88 bpm, GCS=15/15.
Clinically tender at left hypochondriac region.
Hb= 11.8 gm/dL and TWBC= 13.4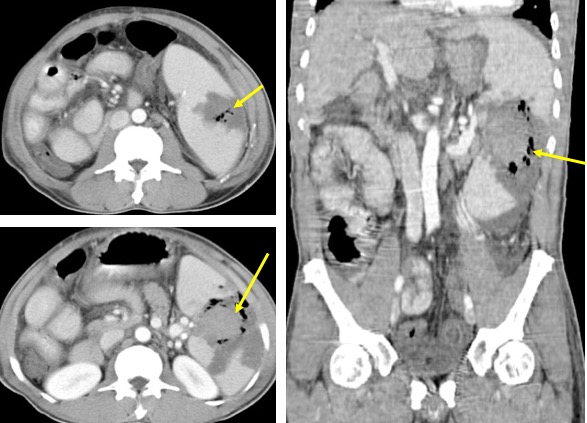 CT scan findings:
The spleen is enlarged. Area of hypodensity within the spleen measuring about 6 cm.
Multiple air pockets are seen within the hypodensity (yellow arrow)
Minimal perisplenic collection seen.
No active contrast extravasation.
Other organs are normal.
Intra-operative findings:
Large spleen with abscess at midpole.
Splenic capsule is intact. Gas bubbles seen in the spleen.
Minimal hemoperitoneum.
Other organs are normal.
Progress of patient:
Initially patient was treated conservatively  and planned for percutaneous drainage.
However he developed sepsis during admission and open laparotomy done (findings as above).
Post operatively noted to have persistent ascitic fluid through drainage tube
Blood investigation shows Hepatitis C +ve.
Discharged well after 20 days in ward.
Discussion:
Missed splenic injury is the most common cause of preventable death after blunt abdominal trauma
Among previously reported complications of blunt splenic injury are missed splenic injury, delayed rupture, the development of a splenic pseudocyst, liquefaction and infection.
Delayed splenic rupture was first described in 1902 with its occurrence 48 hours after trauma. The incidence is approximately 1%, and it tends to occur between 4 and 8 days after injury. Potential mechanisms include expansion of a subcapsular hematoma, clot disruption, or rupture of a pseudoaneurysm or splenic pseudocyst.
Prompt recognition of the signs and symptoms of complications of splenic injury is essential for better patient care.