Case contribution: Dr Radhiana Hassan
Clinical:
A 67 years old man
Known case of DM and HPT on medication
Presented with dysuria for 4 days
Associated with passing blood clots and sandy urine.
Also complaint of nocturia, 3-4 times per night
No fever, no loss of appetite or loss of weight
No loin or groin pain, no altered bowel habit
Clinically vital signs are stable, renal punch negative, abdomen soft and non-tender
PR examination shows mildly enlarged prostate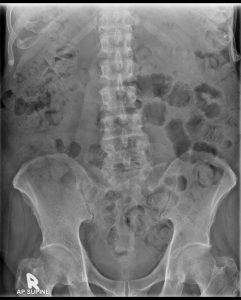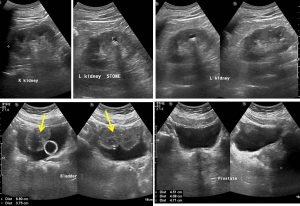 Ultrasound findings:
Both kidneys are located in normal position, showing normal configuration
Bipolar renal lengths: Rt = 10.0 cm, Lt = 10.2 cm.
Tiny calculi are detected in both kidneys, casting faint acoustic shadowing. No hydronephrosis.
No renal mass or cyst is seen bilaterally.
Urinary bladder is distended with Foley catheter balloon seen in-situ.
A lobulated fungating soft tissue mass is detected from the bladder dome (yellow arrows) measuring about 6.8 cm x 3.7 cm in size. Some colour flow within this mass is observed on Doppler.
Prostate is enlarged measuring about 4.5 x 4.0 x 4.7 cm but is not indenting or protruding at the posterior bladder wall.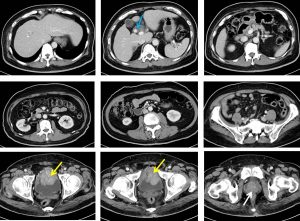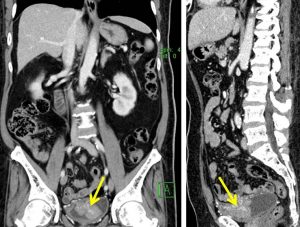 CT scan findings:
There is a large pedunculated enhancing mass arising from the anterior bladder wall (yellow arrows). It measures about 4.0 x 6.0 x 5.4 cm in size.
The mass is confined within the urinary bladder only. No evidence of infiltration into the surrounding structures. The perivesical fat appears fairly normal.
No enlarged internal iliac or pelvic nodes seen. No free fluid in the pelvis.
No focal lesion in the liver, spleen and both kidneys.
Presence of a large stone in the cystic duct about 1.4 cm in size (blue arrow). No associated dilatation of the intra or extrahepatic ducts.
No focal bowel lesion or dilatation is seen.
Progress of patient:
Cystoscopy examination shows papillary pedunculated growth at dome of bladder
Proceed with TURBT that shows abnormal coral-like growth at dome of the urinary bladder, resection done at 3 stalk of tumour
Specimen sent for HPE-result came back as infiltrating urothelial carcinoma, high grade
Repeat TURBT for 4x with 90% tumour resection
Radical cystectomy and ileoconduit was performed. Huge tumour at dome of bladder, mass palpable intravesicle with no muscle invasion seen, enlarged prostate
Post operatively complicated with surgical site infection
HPE noted double pathology: prostate cancer and urinary bladder cancer
Referred to oncologist
HPE findings:
Specimens labelled as urinary bladder, prostate, vas deferens and seminal vesicle, distal right and left ureters and both iliac nodes.
Serial section of bladder shows fungating, cauliflower-like tumors occupying almost the whole bladder with spared the bladder neck and inferior wall measuring 65x90x50 mm. The tumour has fleshy cut surface with areas of necrosis. Grossly it invades through the muscularis propria and is 7 mm away from deep margin (perivescle).
The prostate consist of diffusely firm white parenchyma with a whorled appearance. Both right and left ureter, vas deferens, right and left seminal vesicle are unremarkable.
Microscopically, histology type of bladder tumour is urothelial carcinoma, invasive, high grade. The prostate histologic type is acinar adenocarcinoma gleason pattern 6 (3+3)
Interpretation:
Bladder; infiltrating urothelial carcinoma, pT2aN0Mx, present of lymphovascular invasion, all margins are free.
Prostate; acinar adenocarcinoma, Gleason score 6 (3+3) estimated prostate involved by tumour 5.6%, pT1bN0Mx, absent lymphovascular invasion, present perineural invasion, all margins are free.
Diagnosis: Synchronous urinary bladder and prostate carcinoma.
Discussion:
Multiple synchronous malignancies are believed to be quite rare and are very challenging to physicians managing the case
A study reported a prevalence rate of 1.7% of multiple primary malignant tumours.
Synchronous bladder and prostate cancers in an elderly is not uncommon
A study shown 27% unsuspected prostate cancer in cystoprostatectomy specimen of bladder cancer patients. However, lower incidence in one of the study done in Asian population, about 4%.
Reference:
Incidence of histological findings of unsuspected prostatic adenocarcinoma in radical cystoprostatectomy for transitional cell carcinoma of the bladder. Scan J Urol Nephrol 1999 Feb 33(1):27-30
Synchronous primary carcinomas of the bladder and prostate; Asian J Androl 2006 May 8(3):357-9