Case contribution: Dr Radhiana Hassan
Clinical:
A 13 years old man
Fall from motorbike
No loss of consciousness
Complaint of abdominal pain.
Vital signs are stable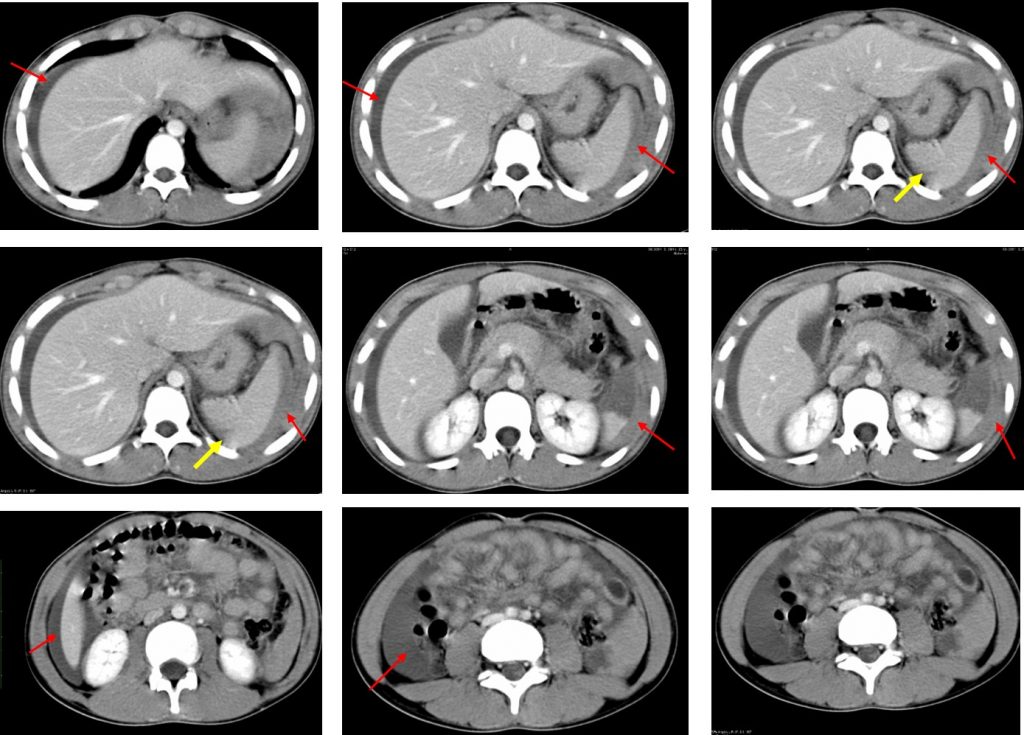 CT findings:
Laceration at posterior part of the spleen measuring about 2 cm (yellow arrows)
Minimal parenchymal hematoma at inferior pole
There is associated blood collection at perihepatic, perisplenic and paracolic gutter
No other organ injuries.
Intraoperative findings:
lacerated spleen at tip about 4 cm length
hilar is intact
Contusion at tail of pancreas
Hemoperitoneum about 1100 cc
Other solid organs and bowels are normal
Splenectomy done
Progress of patient:
Failed conservative management
Splenectomy done
Blood transfusion 2pint and 1 cycle DIVC regime
Discharged 6 days after admission
Well on subsequent follow up.
Discussion:
Grade I and II splenic injury is considered minor injury.
Most of these injuries are treated non-operatively
However, these lesions associated with hemodynamic instability often must be treated with operative management as demonstrated by this case.