Case contribution: Dr Radhiana Hassan
Clinical:
A 12 years old girl with underlying ASD (atrial septal defect)
Presented with fever and altered behaviour one week after COVID-19 vaccination
CT scan brain done revealed cerebral oedema with impending internal herniation
Urgent craniotomy and EVD insertion was done
She was referred for further management from other hospital
MRI brain was performed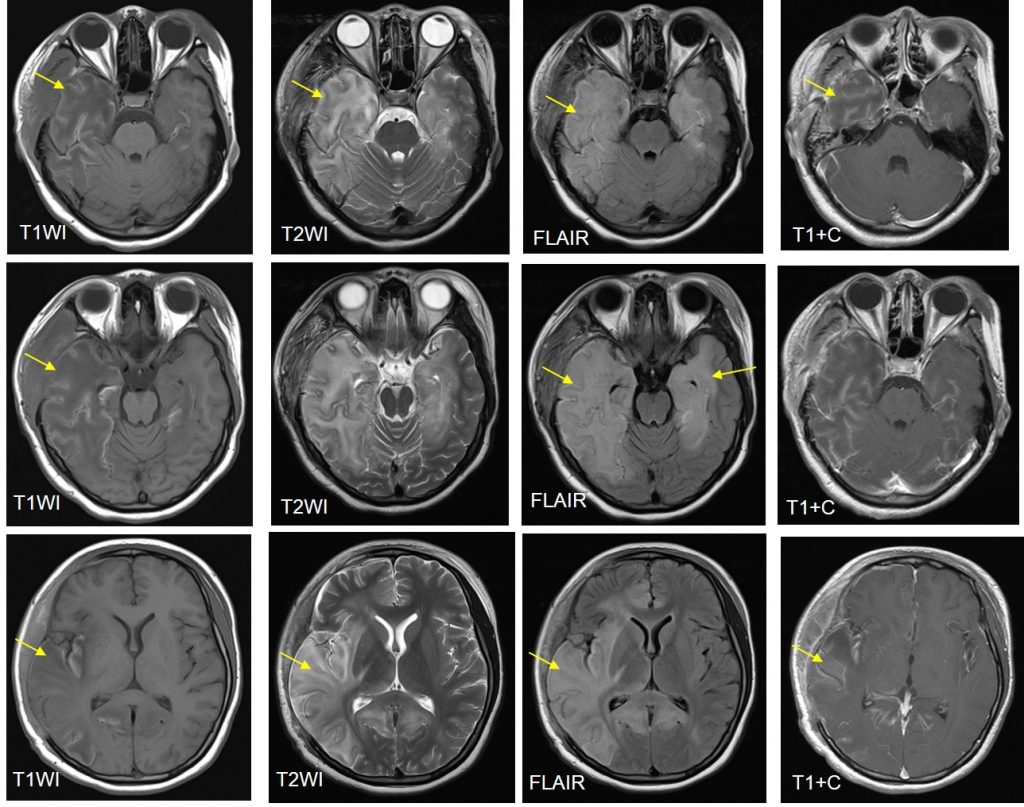 MRI findings:
Extensive abnormal signal intensity is seen in the temporal lobes,  inferolateral frontal lobes and insula cortex
Involvement is bilateral but asymmetrical, worse on the right side
It is hypointense on T1, hyperintense on T2 and FLAIR with minimal contrast enhancement post contrast
Sparing of basal ganglia is seen
Craniectomy defect and post operative changes are also seen
No hydrocephalus on current images (previous CT scan images were not available)
Diagnosis: Herpes simplex encephalitis
Progress of patient:
Patient responded well with treatment
Discussion:
Herpes simplex encephalitis is the most common cause of fatal sporadic necrotizing viral encephalitis
In adolescent/adult type, it is commonly caused by Type 1 herpes simplex virus (>95% of cases).
MRI shows abnormality involving the cortical and subcortical regions of bilateral temporal, frontal lobes and insula region. Involvement of extratemporal regions, cingulate gyrus can also be seen.
Involvement is bilateral and asymmetrical
Basal ganglia is usually spared, an important feature to differentiate with MCA infarction.
There may be associated with restricted diffusion, gyral swelling, loss of gray-white matter interface with mild or no enhancement.