Case contribution: Dr. Radhiana Hassan
Clinical:
A 30 years old male
Presented with bilateral lower limb weakness for one month
Progressively worsen, unable to ambulate
No bowel or urinary incontinence. No back pain.
Clinical examination shows power of left LL 1/5
Sensation reduced from T10 below
CXR shows an apical mass
Clinical diagnosis: lung mass with extension to spinal region causing neurological deficit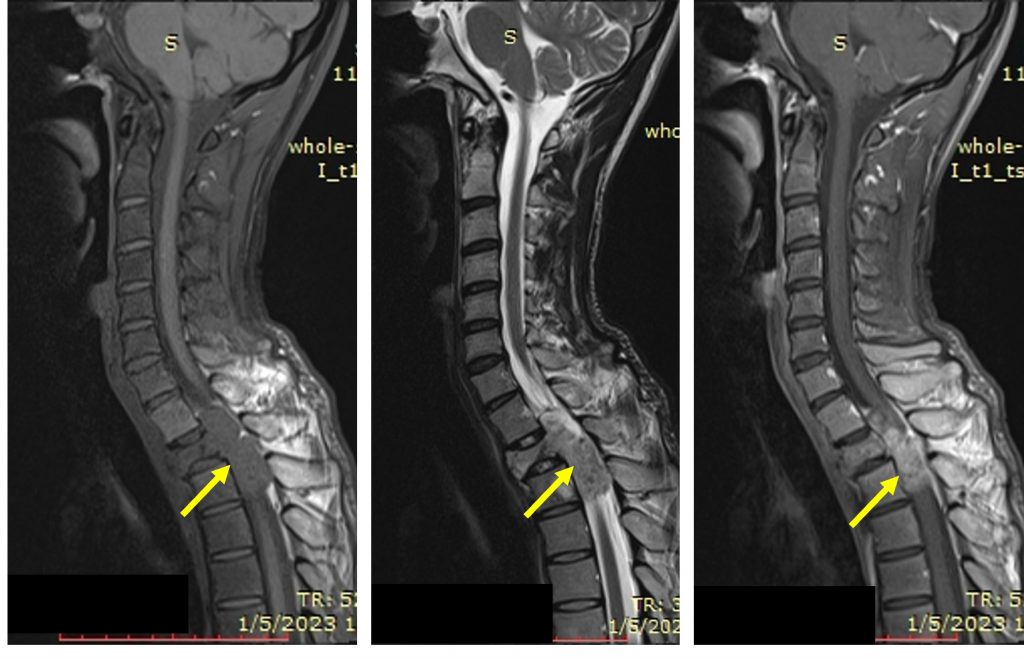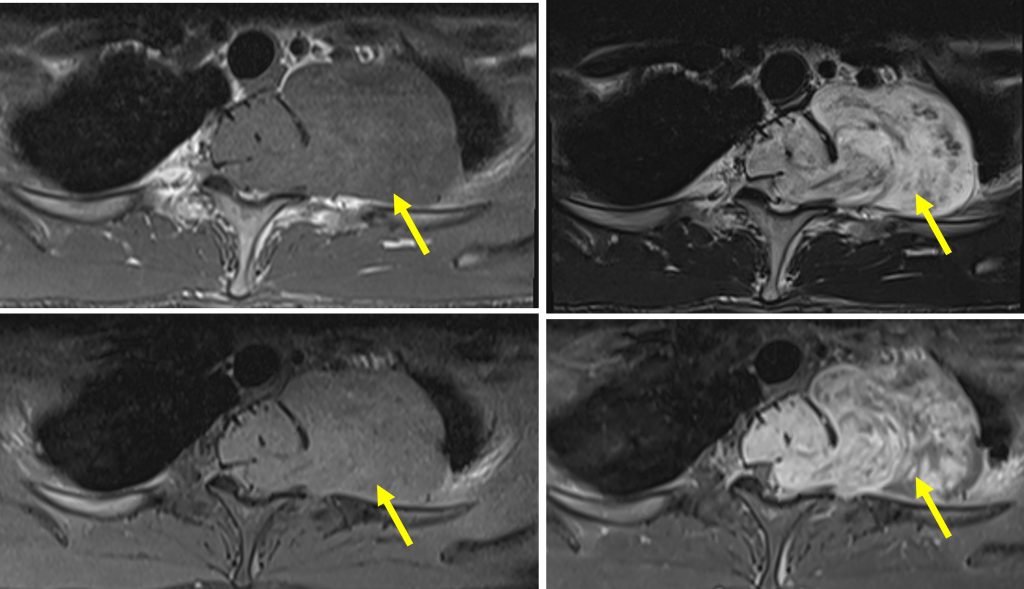 MRI findings:
A large dumb bell-shaped extramedullary intradural mass epicentre at T1/T2 causing expansion of the spinal canal.
Compression and displacement of spinal cord is seen. Presence of cord oedema.
The mass extends through the left neural foramen to paravertebral and extrapulmonary left lung apex. Left neural foramen expansion is seen.
The lesion is hypointense on T1, hyperintense on T2, heterogeneously enhancing post contrast. Blooming artifact seen on Hemo sequence indicating calcification or hemosiderin deposits.
Destruction and reduced T2 vertebral body height.
Infiltration to left side of T3 but the height is preserved.
HPE findings:
Macroscopic: specimen labelled as tumour consist of a piece of greyish tissue. Serial cut shows tan greyish cut surface with area of hemorrhage.
Microscopic: section shows a partially encapsulated, well circumscribed tumour composed of slender to plump spindle shaped cells with thin, wavy, tapered end nuclei. Lesional zonation of hypercellular and hypocellular area is noted. Focal nuclear palisading surrounding aggregatges of cellular responses are identified. Focal nuclear atypia is seen. Mitosis is occasionally seen. Scattered congested blood vessels are seen within the lesion. No necrosis, marked acellular atypia or malignancy seen.
Interpretation: features are consistent with schwannoma.
Diagnosis: spinal schwannoma
Discussion:
Spinal schwannomas are benign nerve sheath tumours within the spinal canal
They are one of the most common intradural extramedullary spinal tumours; 15-50% of lesions. It is the most common nerve sheath tumour of spine
Typically it arise from the spinal nerve roots
Peak incidence 5th-7th decades
No significant sex predilection
Majority are solitary and sporadic (95%)
Association with NF2 in small number of cases
As it usually arise from dorsal sensory root, it commonly presents as pain. Radicular sensory changes may also occur. Weakness is less common. Myelopathy occur if the lesion is large.
On imaging, in most cases it is indistinguishable from neurofibromas
Majority are intradural extramedullary, rarely it is intramedullary tumours
Most frequently seen in the cervical and lumbar region, less common in thoracic
It appear as solid, well-defined, rounded lesions, often with associated adjacent bone remodelling. When large it may either align themselves with the long axis of the cord, forming sausage-shaped masses that extends over several levels or may protrude out of the neural foramen, forming a dumbbell-shaped mass.
It is frequently associated with hemorrhage, intrinsic vascular changes (thrombosis, sinusoidal dilatation), cyst formation and fatty degeneration. All these findings are rare in neurofibromas.
MRI- T1WI: isointense (75%), hypointense (25%)

      T2WI: more than 95% are hyperintense often with mixed signal
      T1+C: virtually 100% enhance