Case contribution: Dr. Radhiana Hassan
Clinical:
A 39 years old female
Initial presentation 4 years ago with right paraesthesia and left upper and lower limb weakness.
MRI Brain showed multiages non traumatic intracranial haemorrhages and haematomyelia with upper cervical cord oedema.
Claimed symptoms resolved after 6 months. Plan to repeat mri but pt defaulted subsequently.
Then presented again early this year with gradual worsening of right paraesthesia and left sided weakness.
Neurology power over the left upper and lower limb 4/5, hyperreflexia and sensation intact.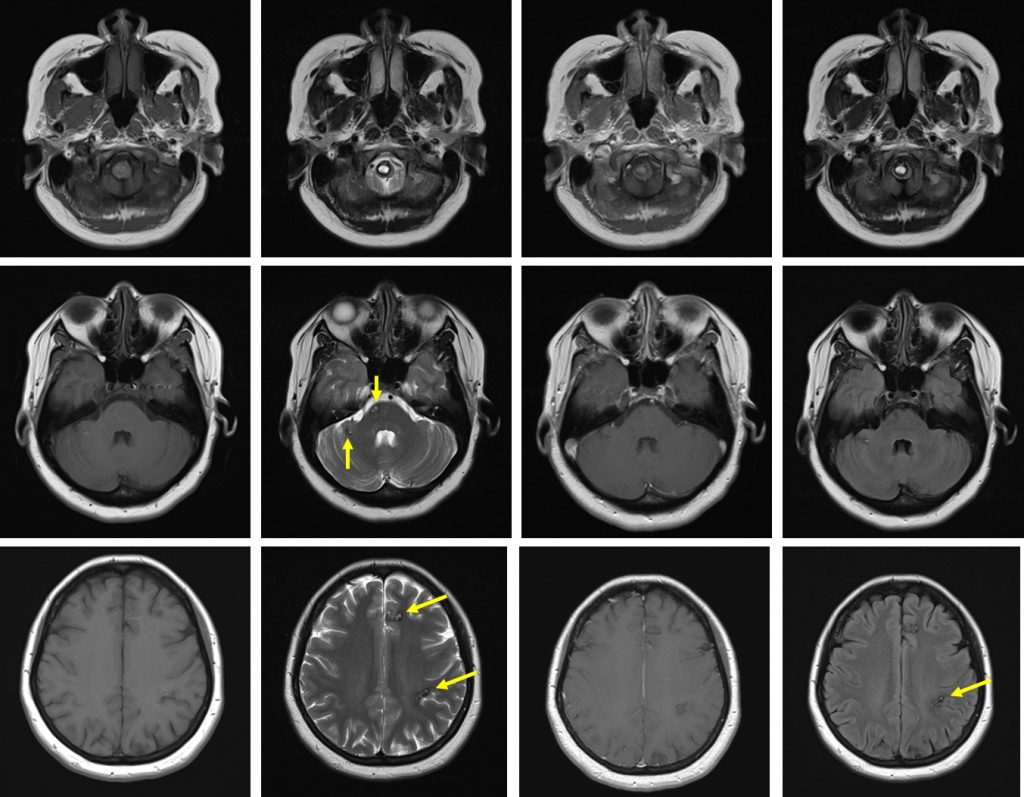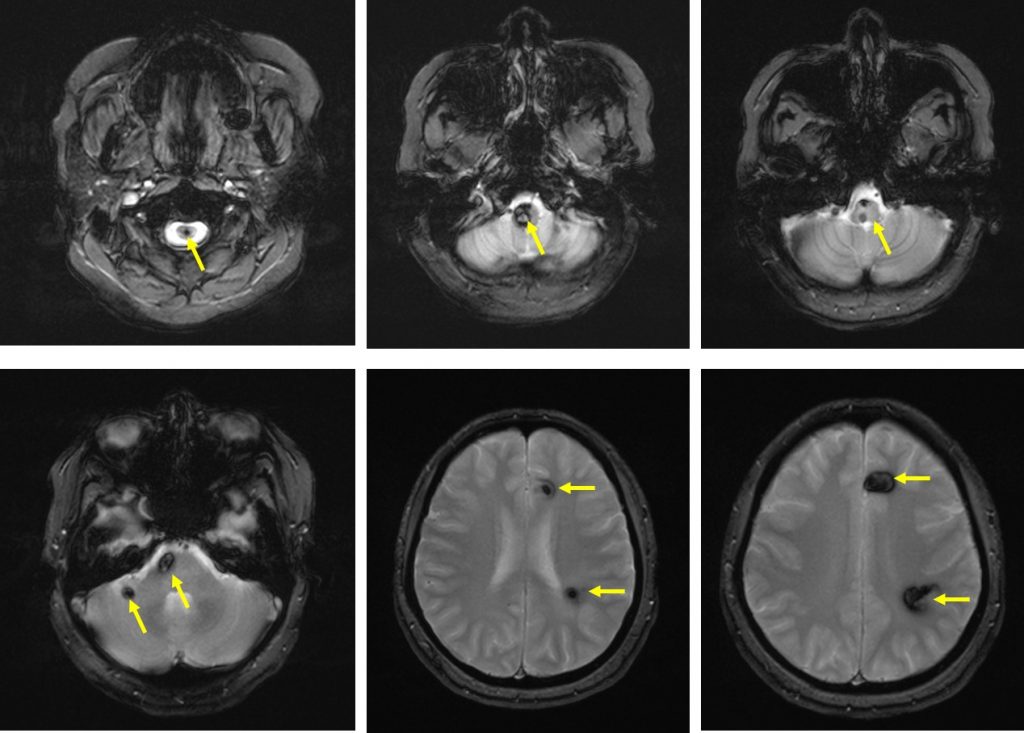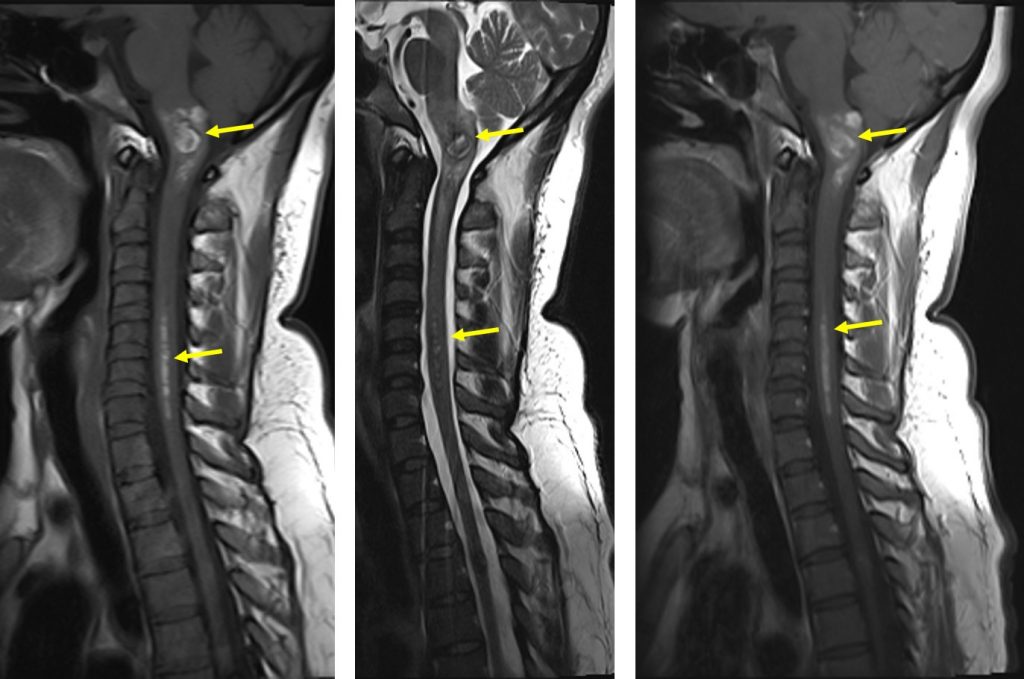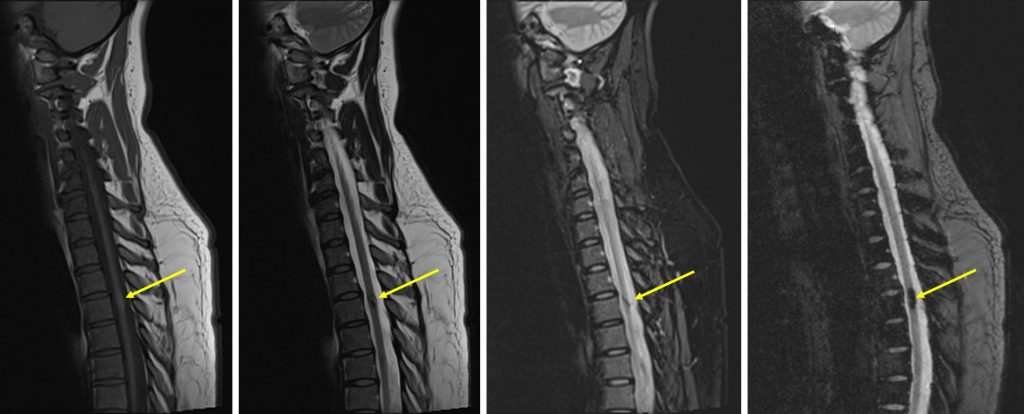 MRI findings:
MRI of brain and spine shows multiple lesions in the brain parenchyma and spinal cord (yellow arrows)
These lesions are not well seen on T1, heterogenous on T2, not enhanced post contrast with blooming artifact on Hemo sequences
These lesions are of varying ages, no surrounding oedema is seen
The larger lesions show characteristic popcorn/mulberry appearance on T2-weighted images
Diagnosis: Multiple cavernomas/familial cavernomas
Discussion:
Cerebral cavernous malformations are multiple mulberry-like distended caverns of dilated thin-walled capillaries without the normal intervening brain parenchymal architecture. It is often surrounded by hemosiderin representing remote oozing due to abnormal capillaries
CCM is the second most common vascular malformations of CNS after DVA.
It is commonly seen at supratentorial cerebri and spinal cord involvement is rare.
The mean age of presentation is around 37 years, however it can present at any age. It has been reported to be higher incidence in certain ethnic (Hispanic population).
There are 3 protein-encoding genes (CCM1, CCM2 and CCM3) known to cause familial CCM. Mutation in these genes is sufficient for causing the disease.
Familial CCM is defined as the presence of multiple CCM (typically five or more). Diagnostic criteria (at least one of the following)

Presence of multiple CCM (5 or more)
The occurrence of CCM in at least 2 members of a family
The presence of mutation in one of three genes causing FCCM

In familial CCM, about 20-50% of cases remain asymptomatic and are incidentally found during imaging.
The recurrent microhemorrhages in CCM that result in nearby deposition of hemosiderin and gliosis and inflammation around the lesion are believed to be the cause of seizures in CCM patients.
An annual ICH risk of 1.5% to 4.6% among the patients and ICH risk of 0.1% to 1.4% for each lesion per year. An overall ICH risk of 15.8% has been estimated for CCM patients with the yearly risk of recurring ICH decreasing with every passing year. This is an important factor to consider best treatment option for patients.
Diagnosis of CCMs can be a challenge as compared with other vascular diseases.
They are not detectable on cerebral angiography as catheter angiography can only identify potential abnormal venous flow associated with CCMs.
Similarly, small lesions may not be detected on computed tomography scan.
Hence, magnetic resonance imaging (MRI) is the modality of choice for evaluating CCMs.
MRI sequences should include typical T1- and T2-weighted sequences including T2 FLAIR and T2* sequences, preferably including susceptibility-weighted imaging (SWI) or similar susceptibility-sensitive sequence. T2*-weighted gradient recalled echo sequences are more sensitive for smaller CCMs than conventional T2 sequences
It is recommended that the MRI of suspected CCMs in brain and/or spinal cord should include SWI of the brain to confirm the lesion and evaluate for DVAs.
If imaging studies reveal a solitary CCM associated with a DVA, there is more likelihood of a diagnosis of sporadic CCM, though, FCCM can rarely be associated with DVAs as well.