Case contribution: Dr Radhiana Hassan
Clinical:
A 29 years old lady
Migraine since 15 years old under neuromedical follow up
Depression under psychiatry follow up
Presented with blurring of vision and headache x 1 year
Clinical examination: normal
Opthalmology assessment: low myopia, no other abnormality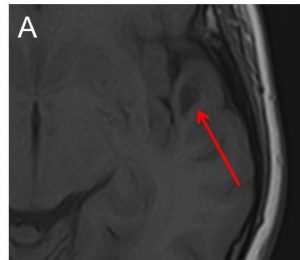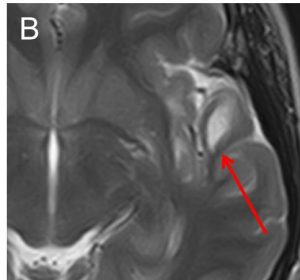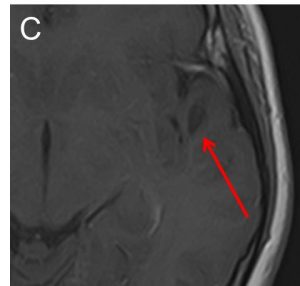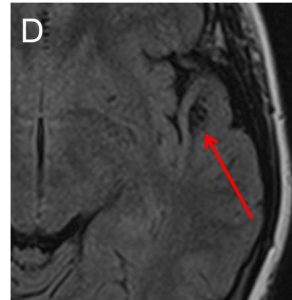 MRI findings:
A well-defined lesion in the white matter of left temporal lobe (red arrow).
The lesion is hypointense on T1-weighted image (A), hyperintense on T2-weighted image (B), not enhanced post contrast (C) and fully suppressed on FLAIR (D).
No expansion of the cortex is seen. No mass effect. No volume loss.
No extension to ventricles. No surrounding sclerotic rim.
No other lesion in the brain.
Differential diagnosis:
Neuroglial cysts
Porencephalic cyst: communicates with lateral ventricle, usually shows surrounding gliosis
Enlarged perivascular space: typically multiple, clusters in basal ganglia
Neurocysticercosis: partially enhance, presence of central hyperintensity
Cerebral hydatid cyst: usually large, may be indistinguishable
Ependymal cyst: periventricular
Epidermoid cyst: do not follow CSF in all sequence, restricted diffusion, usually at CPA/sellar
Diagnosis: Neuroglial cyst (no HPE)
Discussion:
Neuroglial cyst is also known as glioependymal cyst.
Benign, glial-lined, fluid containing cavity within the cerebral white matter
may occur anywhere throughout the brain, frontal lobe is most common
size varies from a few mm up to several cm
no calcification
signal intensity similar to CSF, does not restrict on DWI
no enhancement
minimal or no surrounding signal abnormality
Patient progress:
Patient is under conservative management.
No surgical intervention done.