Case contribution: Dr Radhiana Hassan
Clinical:
A 43 years old lady
Anterior neck swelling for 26 years
Never seek proper treatment, never had imaging or biopsy
Recent onset of progressively enlarging neck mass
Associated with dysphagia and weight loss
No hoarseness of voice, no difficulty in breathing
No hyper or hypothyroid symptoms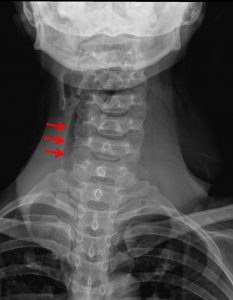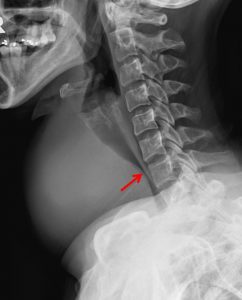 Radiographic findings:
Radiograph of neck in AP and lateral views show a huge mass at anterior neck region.
No obvious calcification or cavitation seen within the mass lesion.
The mass causes compression of trachea and lateral displacement to the right side (arrows).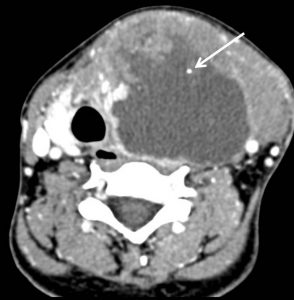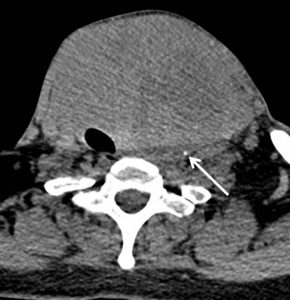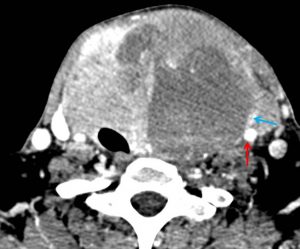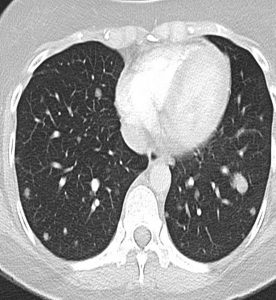 CT scan findings:
CT scan shows a huge mass with heterogenous enhancement and central necrosis from anterolateral aspect of neck extending from hyoid level to suprasternal notch.
Multiple small intralesional calcifications are seen (white arrows).
The left CCA (red arrow) and left IJV (blue arrow) are encased within the mass.
Infiltration of sternocleidomastoid is seen.
Lung window shows multiple nodules suggestive of lung metastasis.
Histopathology report:
Macroscopy: thyroid mass consist of enlarged thyroid measuring 160x110x65 mm. There is an area of capsular breach seen anteriorly.
Cut section shows solid tan wide tumour with central necrosis. Minimal residual thyroid tissue seen at the superior and inferior pole.
Microscopy: sections show a malignant tumour composed of admixture of epithelioid and spindle cells arranged as sheets. These epithelioid and spindle cells are highly pleomorphic exhibiting large vesicular to hyperchromatic nuclei, coarse cromatin and prominent nucleolus with moderate amount of cytoplasm. Mitotic figures are brisk including the abnormal ones. Numerous tumour giant cells are also noted. Area of tumour necrosis is present. There is no well differentiated area seen. The tumour is seen infiltrating through the capsule and adjacent adipose tissue in areas. No lymph node is identified.
Interpretation:  Anaplastic carcinoma WHO stage T4Nx
Final diagnosis: Thyroid carcinoma; anaplastic type.
Discussion:
Anaplastic carcinoma is a highly aggressive form of thyroid cancer
Accounts for 1-2% of primary thyroid malignancies
Of all the subtypes this carries the worst prognosis
Typically occurs in the elderly, peak incidence in 6th to 7th decades
There is recognized female predilection
A significant proportion of patients may have a history of concurrent multinodular goitre
Calcifications in 58% of cases
Areas of necrosis in 74% of cases
invasions of carotid artery, IJV and larynx are common
CT scan is useful for extrathyroidal tumour invasion, regional lymph nodes and distant metastasis
Radionuclide usually show no uptake
Progress of patient:
Near total thyroidectomy done
Worsening lung metastasis with right pleural effusion and spontaneous pneumothorax
Invasion of tumour causing superior vena cava obstruction
Persistent hypoalbuminaemia
Sepsis
Died 36 days after surgery