Case contribution: Dr Radhiana Hassan
Clinical:
A 50 years old lady
Had ovarian mass still under investigation
No other medical or surgical problem
Presented with one week history of lethargy and forgetfulness
On examination, GCS=15/15, bilateral lower limb weakness, power 4/5
CT scan findings:
Ill-defined hypodensities in the right frontal, left occipital and left parietal
These lesions showed no enhancement post contrast
No significant mass effect
No leptomeningeal enhancement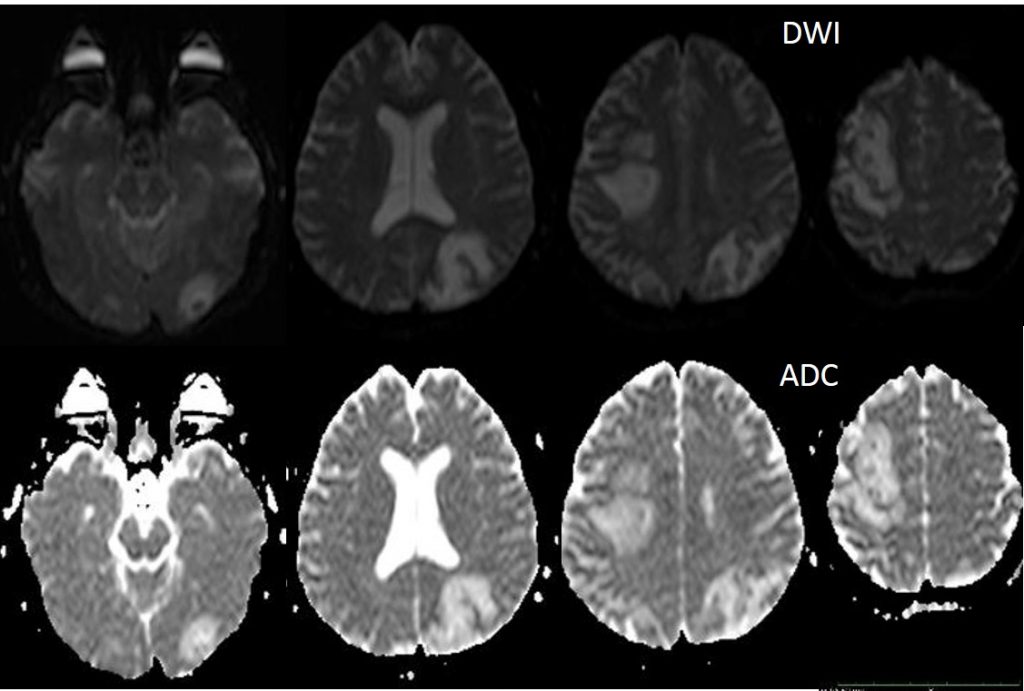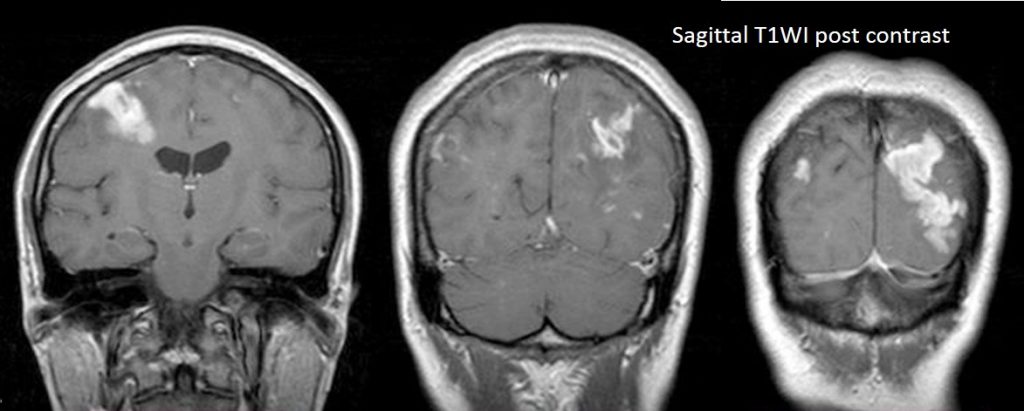 MRI findings:
Done 2 weeks after the CT scan
Main reason to differentiate cerebral infarction from metastatic ovarian cancer
Abnormal signal intensity seen at previously seen lesions at right frontal, left occipital and left parietal lobe
The lesions are hypointense on T1, hyperintense on T2 and FLAIR
The lesions showed intense gyriform enhancement
There is no restricted diffusion. DWI and ADC maps both show hyperintesity
No significant mass effect
Diagnosis: Subacute cerebral infarction with gyriform enhancement
Discussion: Gyral enhancement post cerebral infarction
subacute infarction occurs approximately 2-14 days after initial ischaemic event
Gyral enhancement can be seen with "2-2-2" rule; enhancement begins at 2 days, peaks at 2 weeks and disappear by 2 months
Other pattern of enhancement during this phase include patchy deep parenchymal enhancement. It is likely due to a combination of blood brain barrier breakdown, neovascularization and impaired autoregulation. This was previously referred to as 'luxury perfusion', and can also be seen at interventional procedures for acute stroke, where the already infarcted brain demonstrates parenchymal staining.
The enhancement is generally seen at a stage where much of the mass effect is resolving. This is a useful radiological sign, as an enhancing lesion with mass effect is not likely due to a subacute infarct, and more likely a tumor.
Progress of patient:
Patient subsequently had PET scan done and reported as cerebral infarction.
Pattern seen on imaging are gyriform lesion (cortical laminar necrosis) rather than leptomeningeal involvement.
DWI/ADC sequence is useful to show acute infarction, however in this case it was not done due to its limited availability
Repeat CT scan may be helpful to see any volume loss from the infarction in centre where PET scan is not available.