Clinical:
A 19 years old girl
Gradual abdominal distension
No constitutional symptoms
No bowel related symptoms
Normal menses.
Ultrasound showed huge cystic lesion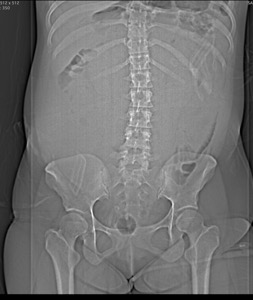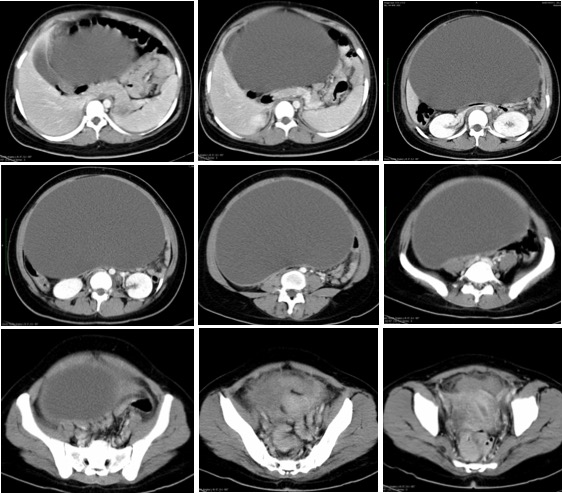 CT scan findings:
There is a large homogenous hypodense cystic lesion arising from right adnexa measuring 28x25x17 cm. No calcification or enhancing solid component seen.
The mass displaced the bowel laterally. The uterus appears normal
A cystic structure in the left adnexa measuring 3×2.7×3.0 cm.
Urinary bladder and bowel loops are grossly normal.
Intraoperative findings:
Left salpingo-oophorectomy, right ovarian cystectomy, omentectomy and bilateral pelvic lymphadenectomy done
A huge left ovarian cyst about 34 weeks pregrant uterus seen, twisted 2-3 times. Gangrenous and removed intact. Mild adhesion between sigmoid colon and the left lateral pelvic wall and the left ovarian cyst. Left fallopian tube elongated and gangrenous.
Right ovary small cyst measuring about 2 cm in diameter. Ruptured during cystectomy
Right fallopian tube normal. Uterus normal in size.
Minimal ascites. Other organs are normal.
HPE findings:
Macroscopy: specimen labelled as ovarian tumour and omentum consist of a huge intact ovarian cyst 300x270x140 mm with attached fallopian tube (120 mm in length). The whole specimen weighs 7100 gms. On cutting open, the cyst is unilocular, with cyst wall ranging from less than 1 mm to 10 mm in thickness. There are multiple small papillary like projection measuring 1 to 4 mm in diameter seen in the inner surface. No other solid area seen. The fallopian tube is hemorrhagic and gangrenous.
Microscopy: Sections from the left ovarian cyst dense fibrocollagenous wall frequently forming intraluminar papillary projections. They are lined by flattened to low cuboidal epithelium. No cellular atypia, epithelial stratification or any evidence of malignancy seen. The fallopian tube shows haemorrhagic infarction.
Section from right cyst wall shows hemorrhagic cyst lined by luteinized corpus luteal cell. No malignancy seen.
Interpretation: Left ovarian tumour: papillary serous cystadenoma. Right ovarian cyst: hemorrhagic corpus luteal cyst
Diagnosis: Giant left ovarian serous cystadenoma.
Discussion:
Serous tumours develop by invagination of the surface epithelium of ovary and they secrete serous fluid.
Serous cystadenomas account for  about 60% of ovarian serous tumors.
They are the commonest type of ovarian epithelial neoplasm.
The peak incidence is at the 4thto 5thdecades of life.
Generally asymptomatic. If symptoms are present, they are usually related to mass effect with displacement of adjacent structures, e.g. loops of bowel, adnexal torsion.
They can be bilateral in ~15% of cases.
As seen in this case, it is often seen as a unilocular cystic mass with homogeneous CT attenuation and a thin regular wall or septum.
There is usually no endocystic or exocystic vegetation.
Cysts can be quite large in size and have the potential to be seen filling most of the lower pelvis with extension into the upper abdomen.