Clinical:
A 62 years old man
Underlying hypertension and DM
Also had posterior neck sarcoma (unsure histological type), operated and completed treatment few years ago in another hospital
Presented with worsening shortness of breath for one week
There is associated fever and non-productive cough
Also complaint of intermittent dysphagia
No chest pain or night sweat
Patient was using oxygen at home which was self-bought. Claimed spO2 at home is around 90-92% when resting.
Clinical examination shows patient to be alert and conscious, no feature of superior vena cava obstruction, patient is able to talk in full sentences, no clubbing of fingers and no cervical nodes palpable. Reduced air entry of right lower and midzone, reduced vocal resonance and dull on percussion at the same region.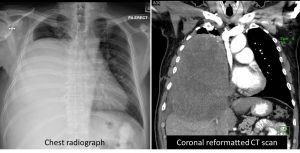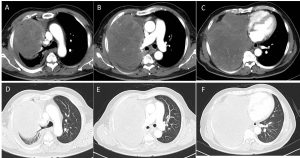 CT findings:
There is a large heterogenous mass involving almost the whole right lung, sparing part of the right upper lobe. It measures about 24cm(CC) x 15cm(W) x 18cm(AP).
This lesion enhances heterogeneously post contrast with multiple non-enhancing areas within suggestive of necrosis.
No cavitation or calcification noted.
The mass pushed the carina superiorly, and causes narrowing and total obstruction of the right middle and lower lobe bronchi. The right upper lobe bronchi are pushed superiorly, but still patent.
The superior vena cava is compressed and pushed to the left side, but still patent.
The heart is normal in size, no pericardial effusion.
There is minimal right pleural effusion.
Multiple mediastinal nodes are seen, the largest measures 0.8cm at carina region.
No suspicious lytic or sclerotic lesion.
HPE findings:
Right lung, percutaneous biopsy: Morphologic features are compatible with spindle cell neoplasm with myxoid change.
The differential diagnosis includes: Myxofibrosarcoma or Low grade fibromyxoid sarcoma
Diagnosis: Metastatic lung sarcoma
Discussion:
Soft tissue sarcoma is a rare neoplasm.
Of patients with extremity sarcoma, approximately 20% will have isolated pulmonary metastatic disease at some point in the course of their disease.
Differential diagnosis for large lung mass

Mnemonic: CAT PIES
Carcinoma (large cell, squamous cell and cannon ball metastasis)
Abscesses
Toruloma (Cryptococcus)
Pseudotumour/Plasmacytoma
Inflammatory
Echinoccoal disease
Sarcoma, sequestration

Surgical resection is the treatment of choice for pulmonary metastases from soft tissue sarcoma. Three-year survival rates after complete resection range from 30% to 42%.
Chemotherapy has not been proven to increase survival after the resection of pulmonary metastasis
Progress of patient
Worsening of condition
Patient succumb about 2 months later