Clinical:
A 33 years old lady
Right breast lump for 4 years
Presented with right nipple bloody discharge for few days
Initially minimal then soaked inside layer of bra
No fever, no constitutional symptoms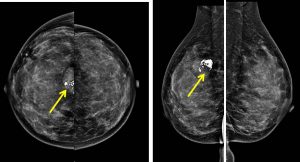 Mammogram findings:
Bilaterally dense breasts with symmetrical parenchymal pattern
There is a high density indistinct margin mass seen in the mid upper quadrant of the right breast with coarse calcifications within.
No suspicious cluster of microcalcifications.
No architectural distortion is observed. No skin thickening.
Both nipples are not retracted. No enlarged axillary nodes bilaterally.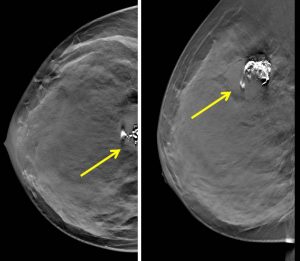 Tomosynthesis images:
Lobulated margin of the lesion is well demonstrated
Macrocalcification as noted on mammogram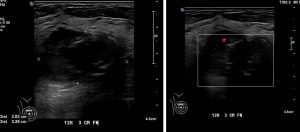 Ultrasound findings:
There is a well-defined lobulated mass with internal calcification
It showed heterogenous echogenicity
Posterior enhancement is seen
Intralesional vascularity also noted
Core biopsy of lesion:
Macroscopy: specimen labelled as right breast biopsy consist of multiple strips of whitish tissue
Microscopy: section shows strips of tissue with extensive necrosis and hemorrhage with tiny area of viable tissue present. The viable tissue shows sheets of atypical cells displaying moderate pleomorphic, hyperchromatic nuclei with some shows prominent nucleoli. Occasional mitosis are seen. Scattered multinucleated giant cells are also noted.
Interpretation: Atypical cells seen. The biopsy showed predominant necrotic tissue and haemorrhage, therefore strongly suggest for repeat biopsy for proper evaluation
Wide local excision done:
HPE shows malignant Phyllodes tumour with malignant heterologous components and background fibrocystic changes. Vascular invasion is present, deep margin is involved. Other margins are clear.
Diagnosis: Malignant phyllodes tumour.
Discussion:
Phyllodes tumor, also known as cystosarcoma phyllodes, is a rare fibroepithelial tumor of the breast account for less than 0.3-1% of all breast neoplasms.
The occurrence is most common between the ages of 40 and 60, before the menopause with peak incidence of 45 years.
Phyllodes tumour are subclassified histologically as benign, borderline or malignant.
It is typically a large, fast growing mass that forms from the periductal stroma of the breast.
On mammogram, it is typically seen as non-specific large rounded oval or lobulated, generally well circumscribed, lesions with smooth margins. A radiolucent halo may be present. Calcification (typically coarse and plaque like) may be seen in a very small proportion.
On ultrasound, features are non-specific and can mimic that of a fibroadenoma
It is a locally invasive tumor. Treatment is usually with surgical excision. Large tumors may even require a full mastectomy. Both benign and malignant phyllodes tumors have a tendency to recur if not widely excised. Malignant degeneration is seen in 5-25%.