Clinical:
A 23 years old man
Presented with constant left testicular pain for 2 weeks
Pain partially relieved by analgesic
Exacerbated by standing upright
No dysuria, no hematuria, no abdominal pain, no fever, bowel opening as usual
Clinical examination showed left scrotum smaller than the right side, no swelling, no erythema, no penile discharge
Both testes palpable, smooth, no lump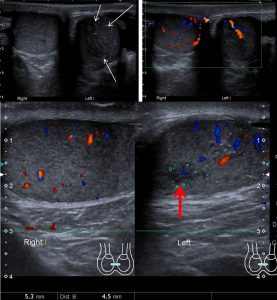 Ultrasound findings:
Both testes are seen in the scrotal sac. However, the left testis is smaller than the right side.
There is a small ill-defined hypoechoic lesion in the left testis (red arrow).
Microlithiasis (white arrows) are also seen in the left testis.
Right testis is unremarkable. No focal lesion seen in the right testis.
Normal vascularity in both testes.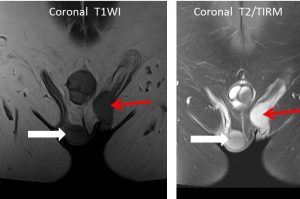 MRI findings:
The left testis is undescended (red arrow) and located higher up compared to the right testis (white arrow) at inguinal region.
The left scrotal sac is atrophied.
A well-defined small focal lesion (yellow arrows) which is isointense on T1, hypointense on T2 and shows minimal enhancement is identified at the superior aspect of the left testis close to the mediastinum testis, measuring about 0.9cm (AP) x 0.9cm (W) x 1.0cm (CC).
The rest of the testicular parenchyma is homogenous.
No significant inguinal lymphadenopathy.
Both testes demonstrate normal size. No hydrocele bilaterally. T
he right testis is located within the right scrotal sac. No focal lesion is identified within the right testis. Urinary bladder is well distended. Seminal vesicles are normal. Prostate is homogenous and normal in size.
HPE findings:
Macroscopy: specimen labelled as left testis consist of tissue measuring 100x30x15 mm surrounded by fatty tissue measuring 25x25x10 mm. Cut section shows a nodule measuring 15x15x30 mm and has tan to yellow cut surface. No hemorrhage or necrosis seen. The nodule is located 5 mm from the nearest tunica albuginea and 30 mm from surrounding fatty tissue. The rest of the testicular parenchyma shows homogenous greyish surface.
Microscopy: section from the nodule shows diffuse arrangement of pale cells that is interrupted by fobrovascular septa containing lymphocytes. The tumour cells display pale to clear cytoplasm with polygonal nuclei, finely granular chromatin and prominent nucleoli. Mitosis are easily seen. The tumour cells are seen invading the rete testes. The epididymis and ductus deferens are free from tumoral cells infiltration. No lymphovascular invasion seen. All margins are clear
Impression: Seminoma of left testis. TNM stage pT1NxMx
Diagnosis: Testicular seminoma
Discussion:
Testicular seminoma is the most common testicular tumours.
It account for about 1-2% of all malignancies in males up to the age of 65, but it is the most common non-hematologic malignancy in males 15-49 years old.
Approximately 50% of germ cell tumors are seminomas.
Undescended testis is the major risk factor for testicular germ cell tumours
Microlithiasis is also reported to be associated with testicular malignancy.
US is used to distinguish between intratesticular masses, which are more commonly malignant, and extratesticular masses, which are more commonly benign.
US can also be used to accurately differentiate intratesticular solid masses, which are often malignant, from cystic lesions, which are usually benign.
Seminomas are often hypoechoic and homogeneous and infrequently demonstrate calcifications or cystic space.
MRI is highly accurate and superior to ultrasound in local staging of testicular tumors. MRI has a sensitivity of nearly 100%, specificity of 88%, PPV of 96.5%, NPV of 100% and accuracy