Clinical:
A 22 years old lady
Sudden onset of left sided weakness for 2 weeks
Left sided loss of sensation since 13 days.
Clinically had loss of left nasolabial fold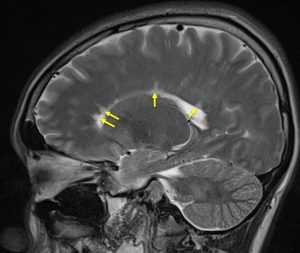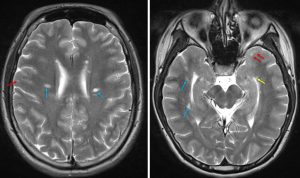 MRI findings:
There are multiple white matter lesions
Juxtacortical lesions involving U-fibres (red arrows)
Periventricular lesions (blue arrows)
Dawson fingers (yellow arrows)
These lesions high signal intensity on T2 and FLAIR sequences, not restricted on DWI and not enhanced post contrast.
Radiological diagnosis: Consistent with multiple sclerosis
Discussion (Dawson fingers):
Initially described by James Dawson on histopathological specimens in MS as "wedge-shaped areas with broad base to the ventricle, and extensions into adjoining tissue in the form of finger-like processes or ampullae, in each of which a central vessel could usually be found".
On MRI, Dawson's fingers are described as elongated, flame-shaped, hyperintense lesions best seen on sagittal FLAIR images (as shown in this case). They are oriented along subependymal veins and thus are perpendicular to the walls of lateral ventricles.
This finding is not found in MRI of Neuromyelitis Optica Spectrum Disorders (NMOSD) and can be a differentiating features from MS.