Case contribution: Dr Raja Rizal Azman
Clinical:
A 54-year old homeless man with a history of alcoholism
Presents with drowsiness and associated cough and fever.
The patient was admitted and treated for community acquired pneumonia and improved initially with persistent drowsiness.
On day 6 of admission the patient became increasingly drowsy and was found to have bilateral lower limb weakness with upper motor neuron signs.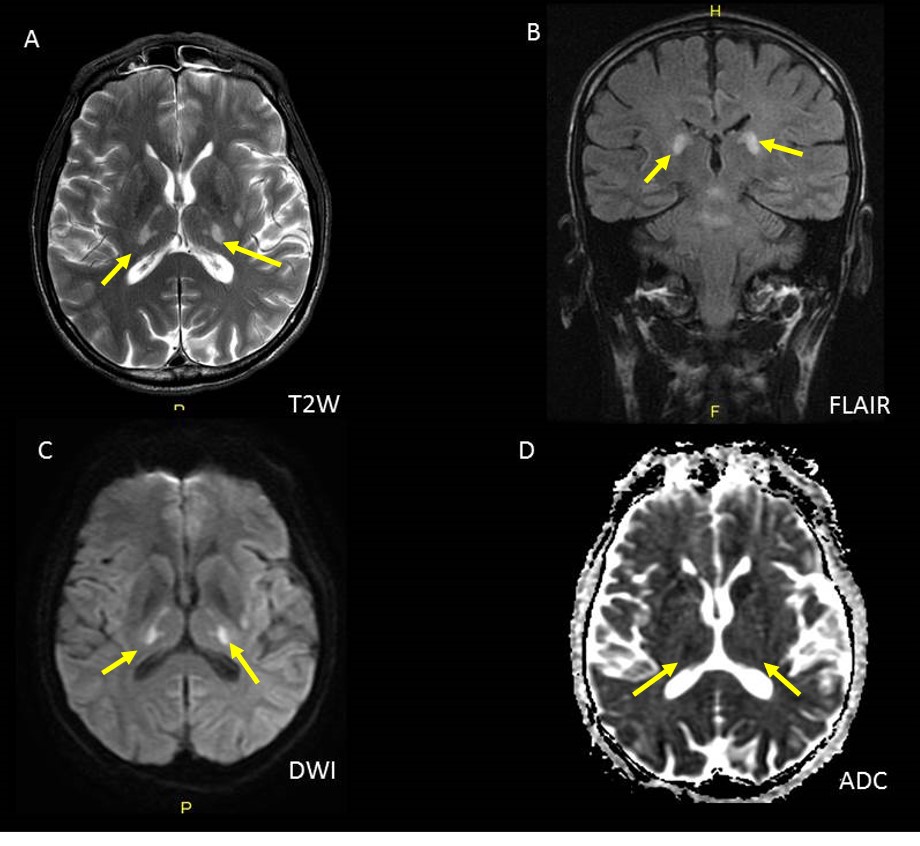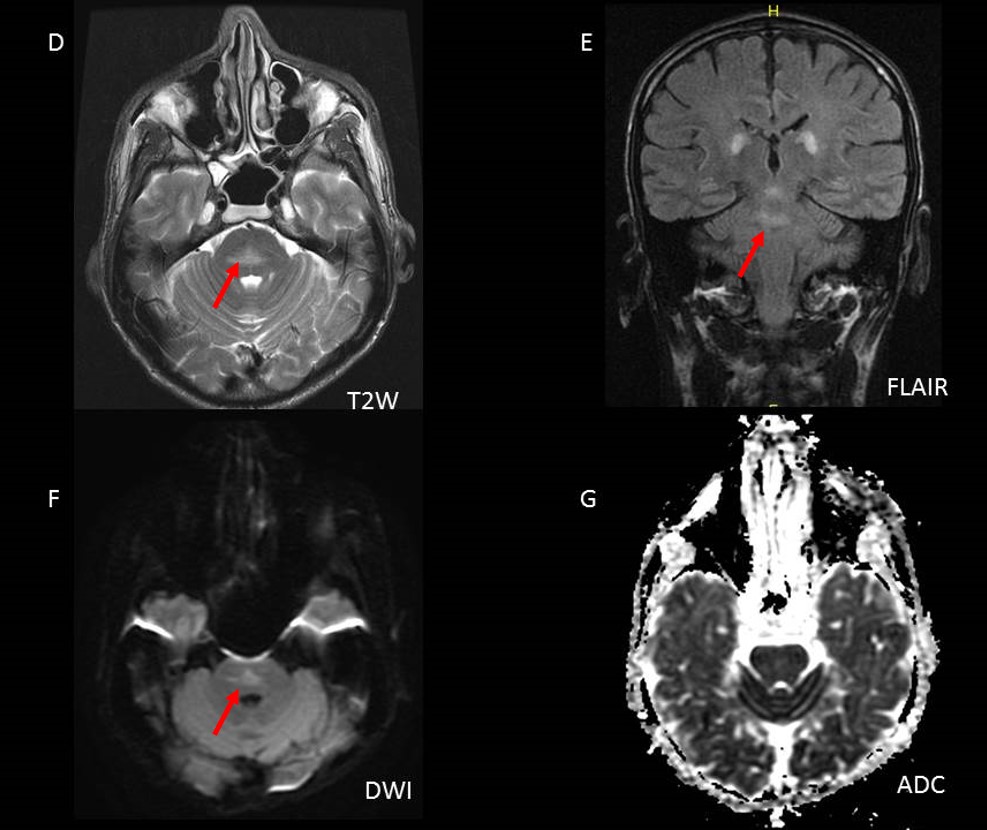 MRI findings:
MRI of the brain shows areas of symmetric hyperintense signal on T2 and FLAIR in both thalami (yellow arrows) and centrally in the pons (red arrows) with some areas of restricted diffusion.
The central area of hyperintensity affecting the pons appears triangular in shape and spares the periphery.
There is no mass effect or surrounding oedema from these lesions.
The lesions do not exhibit enhancement post gadolinium.
Diagnosis: Osmotic demyelination syndrome
Discussion:
Osmotic demyelination syndrome typically exhibits symmetric hyperintense signal on T2 and FLAIR affecting the pons sparing the periphery with a triangular or trident shape.
Extrapontine lesions can  be seen in the thalami, putamen or globus palladi.
The presence of restricted diffusion can be one of the earliest signs occurring in the acute phase and  resolving after several days.
The lesions usually do not exhibit contrast enhancement.
The condition was initially described in an alcoholic patient and  usually occurs in the context of overcorrection of hyponatraemia.  Other conditions associated with osmotic demyelination syndrome include malnutrition, renal failure, hepatic disease and severe burns.
The main differential diagnosis for the above findings are of acute disseminated encephalomyelitis (ADEM) or multiple sclerosis.  Both these conditions are usually asymmetric and are more likely to exhibit enhancement.
When confined to the pons, a primary or secondary tumor should also be considered.  Tumors are expected to exhibit mass effect causing enlargement of the pons with variable degrees of enhancement.