Case contribution: Dr Khairiah Mat Nor
Clinical:
A 44-year old male
Premorbidly, dyslididemia (not on medication) and social smoker.
Presented with sensorineural hearing loss of the left ear for a  year.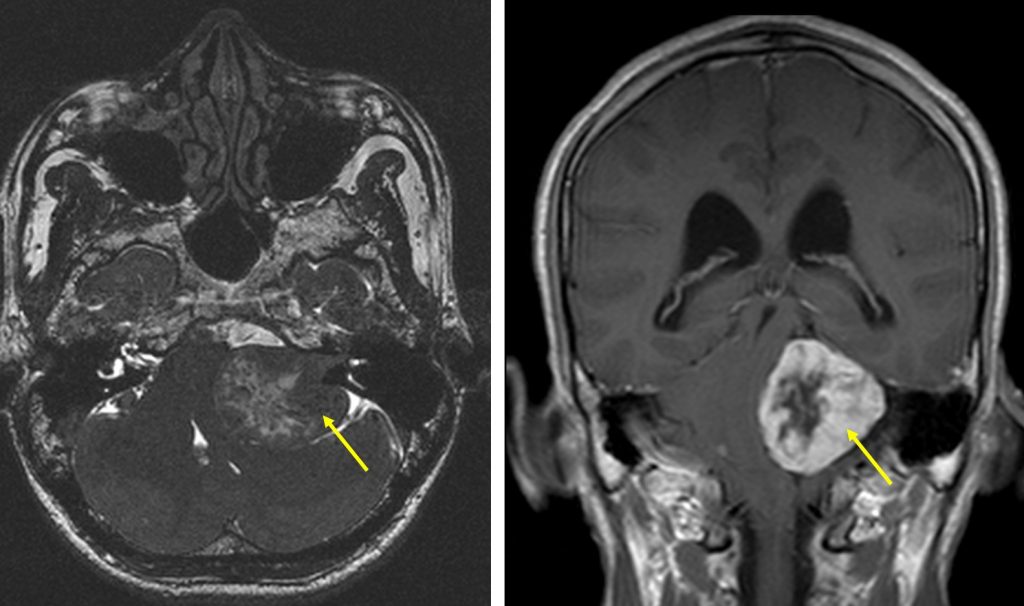 MRI findings:
A large mass, that is hypo to iso-intense on T1W and heterogenous hyperintense on T2W/FLAIR seen at the left cerebellopontine angle.
It is avidly enhancing with central necrosis.
Flow voids are seen within.
This mass compressing onto the left cerebellum and left cerebellar peduncle. Displacing the brain stem and left cereberellar peduncle to the right resulting in hydrocephalus.
The left VII and VIII cranial nerves are not discernable.
Widening of left IAM seen giving a trumpeted internal acoustic meatus sign.
Diagnosis: Left  cerebello-pontine angle giant acoustic neuroma (HPE proven).
Discussion (trumpeted IAM sign):
Trumpeted IAM sign is an indirect sign of acoustic neuroma
It is seen as a result from widening of porus acousticous
It is a useful sign to differentiate acoustic neuroma from other CPA lesion especially meningioma since most of the tumour arising from intracanalicular portion of VII or VIII nerves causes the widening of the canal.
Another description used to describe acoustic neuroma is an 'ice-cream cone' tumour.
Degree of IAM widening and tumour extent caudal and ventral to IAM can predict post-operative hearing loss.