Clinical:
An 18 years old boy, no previous medical problem
Presented with altered behaviour
Mainly being lethargy, sleep almost all day
Previously described as hard working
Came from poor family, had been staying with close relative and doing odd job
No history of substance abuse
Brought to a few GPs, some blood investigations done and were told to be normal.
Fever on and off, low grade otherwise no other related symptoms
Clinically no neurological deficit, no sign of meningism
Blood investigations are normal
CSF analysis was unremarkable
HIV and Hepatitis screening were negative.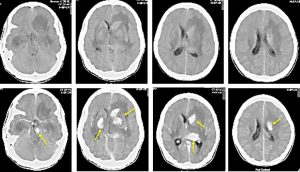 CT findings:
Vivid enhancement seen in multiple areas of the brain; the midbrain, head of left caudate nucleus, bilateral lentiform nucleus, thalamus and left periventricular
There is extensive white matter at both cerebral hemisphere, more on the left side
No meningeal enhancement is seen
No hydrocephalus and no midline shift
No intra parenchymal calcification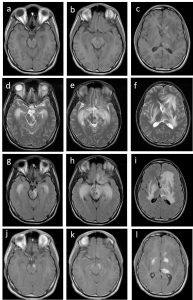 MRI findings:
There is extensive T2/FLAIR hyperintensity involving both hippocampi, lentiform nuclei, midbrain, left caudate nucleus, corpus callosum and left thalamus.
Patchy T1-hyperintensities in some of these regions seen
Vivid enhancement also seen in lentiform nuclei, head of left caudate nucleus, left thalamus and midbrain
No leptomeningeal enhancement
No area of restricted diffusion
No hydrocephalus
HPE findings:
Macroscopy: specimen labelled as brain biopsy consist of 3 pieces of whitish tissue and 2 pieces of greyish tissues
Microscopy: The whitish tissue sections show fragments of brain tissue composed of a few clusters of neuron cells and scattered equally distributed astrocytes. No inflammatory cells infiltrates or atypical cells seen.
The greyish tissue sections show fragments of oedematous and hemorrhagic tissue and adjacent fibrin clots exhibiting moderate to severe lymphocytic infiltrate (mixed CD3 and CD20 positivity). No large cells with nucleoli, perivascular cufting or endothelial infiltration by lymphoid cells seen. Mitotic figure is not encountered.
Special stain: PAS, GMS: no fungal body seen. Ziehl Neelson: Acid fast bacili (AFB) not seen.
Impression: Features are in favour of inflammatory pocess and focal reactive gliosis.
Progress of patient:
Patient started on steroid with clinical diagnosis of  limbic encephalitis and possible primary CNS lymphoma.
CT scan of thorax, abdomen and pelvis done was normal. No mass lesion found.
Repeat MRI after steroid therapy did not demonstrate any significant improvement (images below).
Patient condition also deteriorating with worsening cognitive status.
Second brain biopsy confirmed presence of AFB.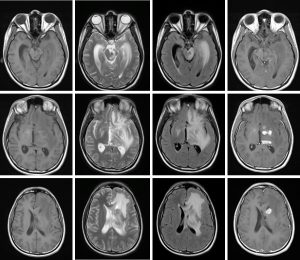 Final Diagnosis: CNS tuberculosis (tuberculous encephalitis)
Discussion:
CNS TB manifestation may be intra-axial and/or extra-axial lesions.
Intra-axial lesions include tuberculoma, tuberculous  abscess, tuberculous cerebritis, tuberculous rhomboencephalitis and tuberculous encephalopathy.
Tuberculous encephalopathy is a rare manifestation of CNS TB.
Tuberculous encephalopathy is an established disease entity of diffuse cerebral damage occurring with tuberculosis and an underlying immune pathogenesis.
Pathologically, there is diffuse oedema of cerebral white matter with loss of neurons in grey matter. A picture resembling haemorrhagic leukoencephalopathy or a post-infectious demyelinating encephalomyelitis may be observed.
This case pose a diagnostic challenge because TB encephalopathy is previously described in infant and young children. Only a few cases had been reported regarding TB encephalopathy with basal ganglia involvement without meningitis.