Clinical:
A 2 years old girl
Previously noted to have swelling at neck region
Clinically there is soft (cystic) lesion at lateral neck on the right side
Later presented with discharge from a small opening at same area of neck region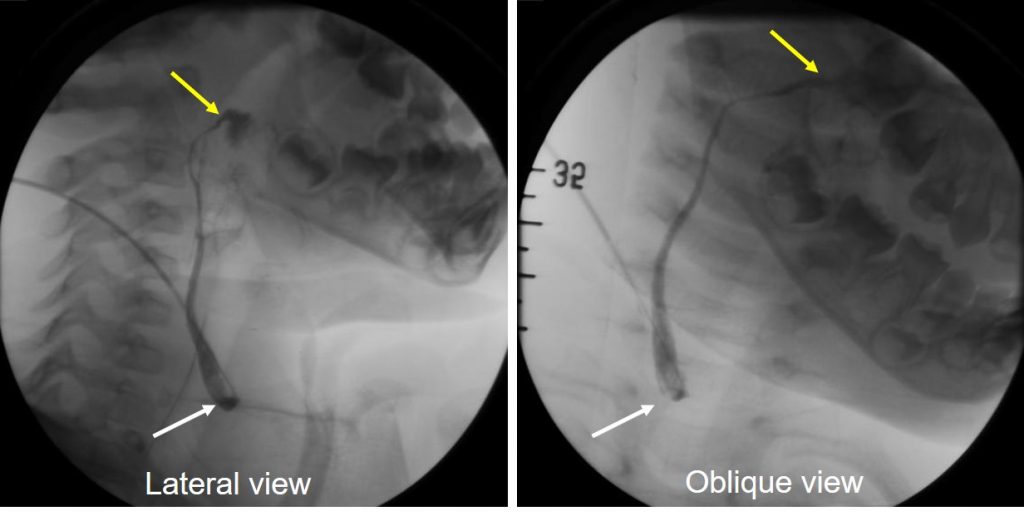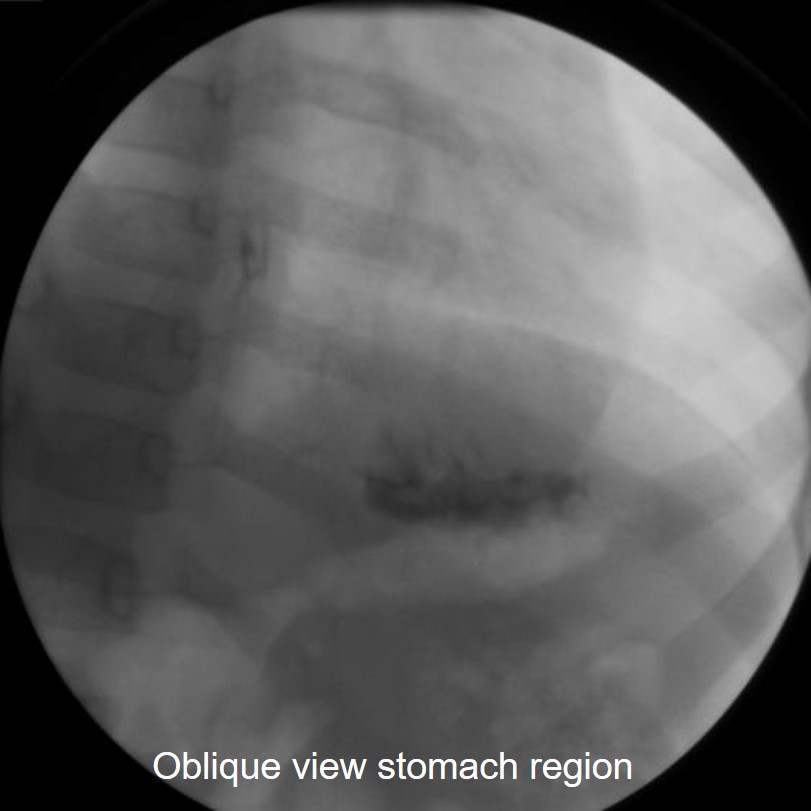 Imaging findings:
Fistulogram performed; contrast injected via the opening at neck region (white arrows)
The contrast is seen opacifying a tract along the lateral neck superiorly
The second opening is seen at the region of palatine tonsil
Delayed image shows contrast in the stomach
Diagnosis: Second branchial cleft fistula.
Discussion:
Second branchial cleft cysts makes up approximately 95% of all branchial anomalies.
Although a congenital abnormality, second branchial cleft cyst tend to present in early adulthood (10-40 years of age) often after minor trauma or infection.
However, second branchial cleft fistula usually present earlier.
Fistulas extend from the skin surface anterior to the middle of the sternocleidomastoid muscle, pass between the ICA and ECA and eventually drain into the tonsillar fossa.
Clinically the cysts are painless, fluctuant masses, situated at the lateral aspect of the neck, proximal to the anteromedial border of the sternocleidomastoid, at the mandibular junction.
They gradually progress in size, and may become painful or tender with time if they are subsequently infected.
On USG, it looks like an anechoic mass or chiefly hypoechoic cystic mass, with faint internal debris and posterior enhancement.
On a CT scan, the cyst usually appears as a well-circumscribed, non-enhancing mass of homogeneous low attenuation.

On T1 MRI sequence, it shows variable signal depends on the protein content. It is usually hyperintense on T2 and shows no enhancement post contrast in non-complicated cases.

Since there is a possibility of secondary infection, the preferred management strategy is surgical excision.