Clinical:
A 56 years old man
Previously on regular follow up for benign prostatic hyperplasia (BPH)
Presented with recent onset of behaviour changes.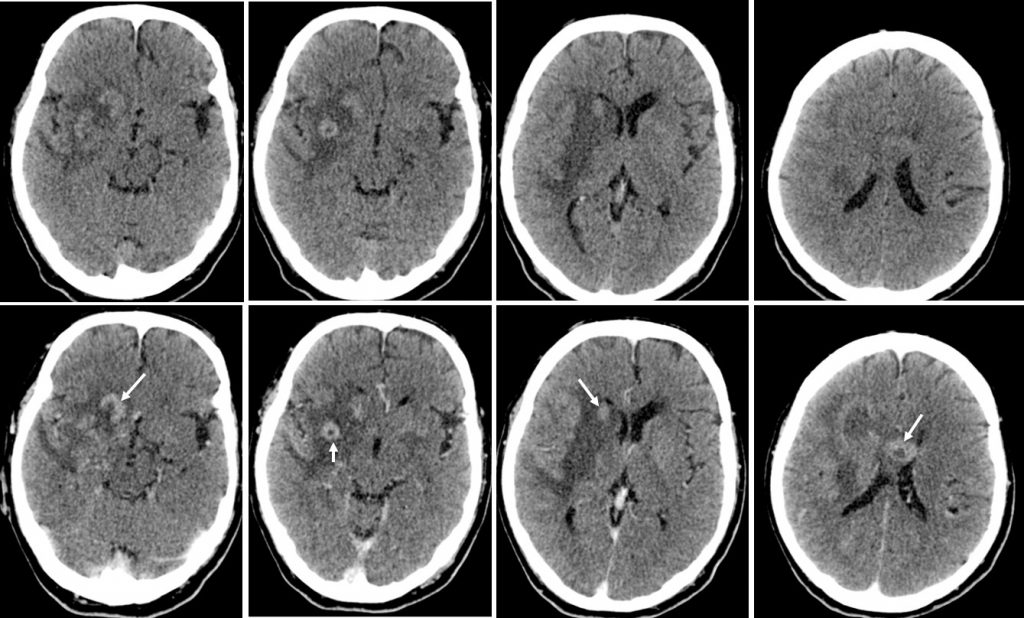 CT scan findings:
There are multiple relatively hyperdense lesions in the right frontal, right basal ganglia, head of right caudate nucleus and body of corpus callosum
These lesions show enhancement post contrast.
Some of these lesions have hypodense center which may represent central necrosis.
There is associated perilesional and white matter oedema seen.
There is minimal midline shift to the left side.
The ventricle and sulci are normal.

MRI brain in axial plane T2-weighted images

MRI brain in axial plane T1+gadolinium images

MRI brain in sagittal plane, T1-weighted images
MRI findings:
There are multiple lesions of varying sizes located at the basal ganglia bilaterally, cortical/subcortical region of the right temporal and periventricular region of the right occipital lobe as well as the body of corpus callosum.
There is similar involvement within the right midbrain and bilateral cerebellar peduncle bilaterally and cerebellum.
In T1W, it appears hypointense to the cortex and iso/hypointense in T2W. These lesions demonstrate solid enhancement. The larger lesions in the right basal ganglia and corona radiata demonstrate an open ring type of enhancement.
These are associated with minimal degree of white matter oedema.
There is associated compression to the frontal horn of the ipsilateral lateral ventricle.
No midline shift. No hydrocephalus. These lesions do not demonstrate restriction diffusion. No dural or leptomeningeal enhancement.
HPE findings:
Macroscopic: Specimen labeled as brain lesion, composed of 3 pieces of whitish tissue measuring 10 mm in aggregate diameter.
Microscopic: Section shows fragments of brain tissue diffusely infiltrated by atypical medium to large sized lymphoid cells which are predominantly forming perivascular cuffs. The lymphoid cells display hyperchromatic nuclei, occasional conspicuous nucleoli and scanty cytoplasm. Many mitosis and apoptotic bodies are also observed.
Immunohistochemical studies show the atypical lymphoid cells are positive for CD20, BCL2, BCL6 & MUM1 and negative to CD3 & CK.
The proliferative index is high (Ki67) (80%).
Diagnosis: Diffuse Large B Cell lymphoma
Progress of patient:
CT thorax, abdomen and pelvis are normal.
Final diagnosis: Primary CNS lymphoma (PCNSL)
Discussion:
PCNSL is a rare extranodal non-Hodgkin lymphoma.
It accounts for 1 to 3% of all NHL and about 3% of all primary brain tumours.
Approximately 95% of PCNSLs are diffuse large B-cell lymphomas.
Median age at disease presentation is 65 years, with a trend toward an increase of incidence in the oldest population.
PCNSL presentation is commonly subacute with typical symptoms such as cognitive decline or personality changes, confusion, focal neurological deficits, headache, and/or nausea and vomiting due to intracranial hypertension.
Seizures are less frequent in comparison to other brain tumors.
Most common locations on MRI include periventricular white matter, basal ganglia, and corpus callosum.
Due to the high cellularity, lesions are often hyperdense on CT and hypointense on T2-weighted MRI images with a variable amount of peritumoral edema.
Single lesions account for 70% of cases and multiple lesions for 30%.
PCNSL typically involves the supratentorial brain and typically the lesions are in contact with ventricular or meningeal surfaces.
Hemorrhage or internal calcification within the tumor are atypical features and are quite rare.
Involvement of corpus callosum is not infrequently seen.
Enhancement on both CT and MRI is pronounced and usually homogeneous.