Clinical:
An 80 years old lady
Underlying DM and HPT
Patient admitted for osteoporotic compression fracture of L1
Also complains of abdominal pain and constipation
No PR bleed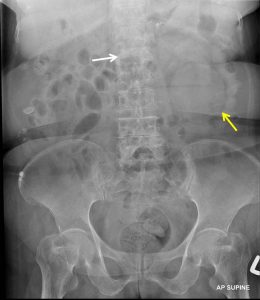 Radiographic findings:
A rounded opacity seen at left lumbar region (yellow arrow).
It is well defined and seen overlying the lower part of left renal shadow.
There is no calcification seen within the lesion.
There is no obliteration of the left psoas margin.
Reduction in height of L1 vertebra is seen (white arrow)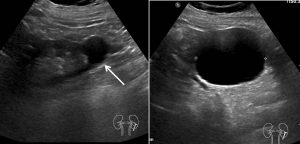 Ultrasound findings:
Both kidneys have normal parenchymal echogenicity and size.
No hydronephrosis or renal calculus bilaterally.
There are multiple exophytic cysts at the lower pole of left kidney. The largest measuring 6.3 x 6.5 x 6.5cm (AP x W x CC). These cystic lesions have no internal septations, peripheral calcification or echogenic debris within.
No free fluid within the abdomen.


CT scan findings:
Both kidneys are normally located.
A few non enhancing exophytic cysts are seen in both kidneys.
The largest exophytic cyst (mean HU: 4) is seen in the left lower pole measuring about 6.4 (AP) x 6.4 (W) x 7.4cm (CC).
No internal septation, wall calcification or solid component seen.
Diagnosis: Simple renal cysts (Bosniak I)
Discussion (Bosniak classification):
Bosniak I: Simple cyst with imperceptible wall, no risk of malignancy, no need work-up
Bosniak II: minimally complex cyst with thin septa (<1mm) or thin calcifications. Can have hemorrhagic component. Renal lesion <3 cm and well marginated. No need work-up. No risk of malignancy
Bosniak IIF: minimally complex cyst with increased number of septa or minimally thickened with nodular or thick calcifications. Minimal thickening of the wall with perceivable enhancement. If hyperdense cyst >3 cm mostly intrarenal and less than 25% of wall visible with no enhancement. This lesion need follow up at reasonable 6 months period. Percentage of malignancy in 5%.
Bosniak III: indeterminate. Cyst with thick, nodular multiple septa or wall with measurable enhancement. Needs partial nephrectomy or radiofrequency ablation. Percentage malignant is 55%.
Bosniak IV: clearly malignant. A solid mass with a large cystic or a necrotic component. Partial or total nephrectomy recommended. Percent of malignancy: 100%.