Clinical:
A 48 years old lady
Underlying DM and HPT
Presented with left flank pain for 2 weeks
Associated with fever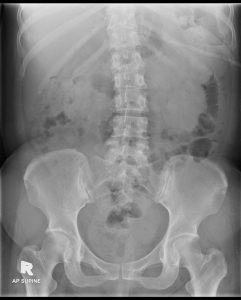 Radiographic findings:
Prominent soft tissue shadow at left lumbar region.
Minimal indentation to medial wall of bowel loops.
No calcification seen. Bones are unremarkable.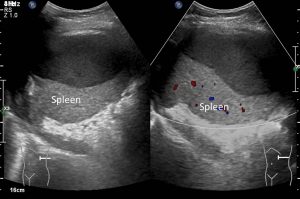 Ultrasound findings:
A well-defined homogenous subcapsular splenic collection with layering sediments is seen compressing the splenic parenchyma, measuring about 10.7cm x 5.0cm.
No vascularity or calcification within.
Otherwise the spleen is normal in size and splenic parenchyma appears homogenous.

CT scan findings:
The spleen is enlarged. Presence of a large subcapsular collection mainly laterally measuring about 10.3cm (AP) x 4.3cm (W) x 8.6cm (CC).
There is associated fat streakiness adjacent to the collection.
No septation, calcification or solid component is seen within the collections.
The left hemi-diaphragm appears elevated and thickened with adjacent minimal left pleural effusion seen.
Presence of left pleural effusion and basal atelectasis on the left side.
Diagnosis: Splenic abscess
Discussion:
Splenic abscesses are uncommon
The main causes include immunodeficiency conditions, hematogenous spread of distant infection, contiguous infection from adjacent infection such as perinephric abscess, trauma or from splenic infarction.
Ultrasound appearance ranges from predominantly hypoechoic to hyperechoic with internal echoes. They may contain septa of varying thickness.
CT scan normally shows low density (HU20-40) with minimal peripheral enhancement. Ascites and adjacent pleural effusion is commonly seen.
Progress of patient:
Percutaneous drainage of abscess done
Patient treated with antibiotic
HIV, Hepatitis screening negative
Connective tissue screening is also negative
Cytology report of splenic aspirate consistent with abcess. No suspicious cell seen.
Culture of splenic aspirate grows E.coli.
AFB negative