Case contribution: Prof. Ahmad Sobri Muda
Clinical:
An 80 years old lady. She is known hypertension on medication
Presented with severe headache followed by loss of consciousness.
She regain consciousness on arrival but GCS not full (13-14/15).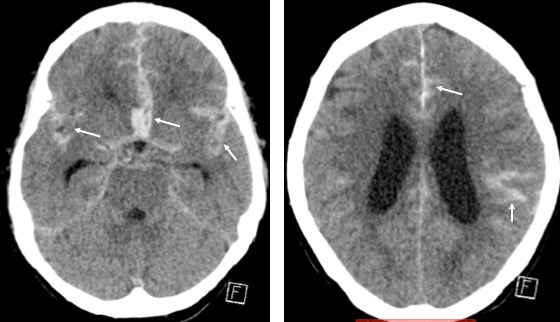 CT scan findings:
There is extensive subarachnoid haemorrhage seen on CT without contrast (white arrows). Hunt and Hess at least grade II.
The haemorrhages are most prominent at the interpeduncular cistern.
No intraventricular haemorrhages or significant haemorrhage in the cerebellopontine cisterns.
There is only minimal blood seen at the quadrigeminal cistern.
Mild hydrocephalus is seen.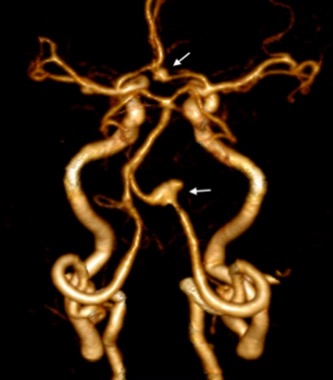 CT angiography findings:
There are multiple aneurysms, with anterior communicating artery and left vertebral artery fusiform complex aneurysms (arrows).
Irregular shape of both aneurysms but the SAH appears to be more prominent in interpeduncular cisterns, most likely the ruptured aneurysm is acom.
Left vertebral artery aneurysm is most likely a dissecting aneurysm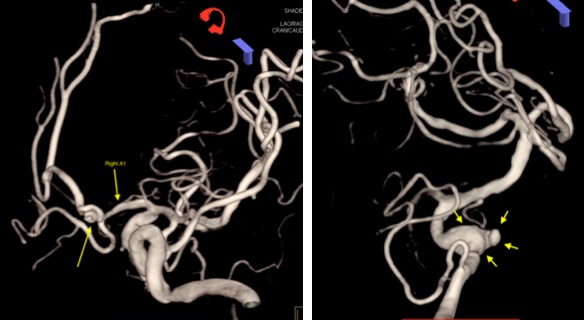 Cerebral angiogram images:
Confirm presence of both vertebral and ACom Artery aneurysms
Diagnosis: Multiple brain aneurysms (anterior communicating and left vertebral) with most likely ruptured anterior communicating artery aneurysm.
Discussion:
Aneurysms are focal abnormal dilatation of a blood vessel. They typically occur in arteries. Venous aneurysm are rare.
Morphologically there are two main types of aneurysms.

saccular aneurysm: eccentric, involving only a portion of the circumference of the vessel wall. ("Berry" aneurysm).
fusiform aneurysm: concentric, involving full circumference of the vessel wall

Prevalence of saccular cerebral aneurysms in the asymptomatic general population has been reported over a wide range (0.2-8.9%) when examined angiographically
In 15-30% of these patients, multiple aneurysms are found.
Cerebral aneurysms typically occur at branch points of larger vessels but can occur at the origin of small perforators which may not be seen on imaging. Approximately 90% of such aneurysms arise from the anterior circulation, and 15-30% of these patients have multiple aneurysms 4.

anterior circulation: ~90%

ACA/ACoA complex (30-40%), supraclinoid ICA and ICA/PCoA junction (30%) and MCA (M1/M2 junction) bi/trifurcation (20-30%)

posterior circulation: ~10%

basilar tip, SCA and PICA

Five-year cumulative risk of rupture of anterior circulation aneurysms:

<7 mm: 0%
7-12 mm: 2.6%
13-24 mm: 14.5%
>25 mm: 40%

Five-year cumulative risk of rupture of posterior circulation aneurysms:

<7 mm: 2.5%
7-12 mm: 14.5%
13-24 mm: 18.4%
>25 mm: 50%