Case contribution: Dr Radhiana Hassan
Clinical:
A 31 years old male
No known medical illness
Presented with headache and blurring of vision
Gradually worsen over 2 years
Clinically no neurological deficit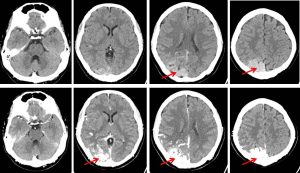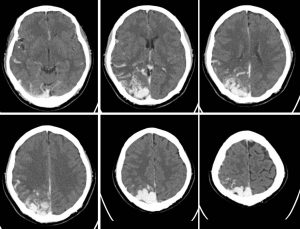 CT scan findings:
A large well-defined, hyperdense, intra axial, tubular serpenginous structures are visualised at the right parieto-temporo-occipital region which shows avid contrast enhancement similar to those enhanced intracranial vasculature (red arrows).
This most likely represents a cerebral arteriovenous malformation. The nidus of the lesion measures at approximately 2.5 cm (AP) x 4.3 cm (W) x 5.5 cm (CC).
No associated intralesional calcification.
No surrounding sulci effacement or parenchymal oedema. No erosion of overlying skull.
Prominent and dilated cortical veins are noted, trace-able from the nidus indicating presence of cortical venous drainages. A draining vein into the vein of Galen is also observed. Drainage into the superior sagittal sinus is also noted.
Findings are highly suggestive of a large arterio-venous malformation (AVM) of right parieto-occipital lobe. No acute intracranial bleed.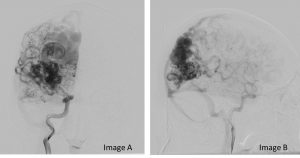 Angiographic findings:
There is a large serpenginous dilatations of vessels seen in the right parieto-occipital region, representing the nidus of an arteriovenous malformation.
The nidus measures 3.8 x 2.0 cm.
It appears to receive arterial supply predominantly from the right middle cerebral artery (MCA), right posterior cerebral artery (PCA), right posterior inferior cerebellar artery (PICA) and occipital and middle meningeal arteries of both external carotid arteries (right and left).
It is seen draining into the superior sagittal sinus and transverse sinus with large dilated and tortuous cortical veins seen medially. No drainage to the deep venous system apparent.
Multiple intranidal aneurysms are observed within.
The right anterior cerebral artery (ACA) is supplied from the left anterior cerebral artery (ACA) through a patent anterior communicating artery (ACom).
No other evidence of vascular malformation or aneurysm in the other parts of the brain.
Impression: Large right parieto-occipital arteriovenous malformation with multiple internal and external carotid arteries feeders and multiple intranidal aneurysms. Spetzler-Martin grade 3 (size =2, eloquence = 1).
Diagnosis: Cerebral arteriovenonous malformation
Discussion:
Cerebral arteriovenous malformations are abnormal connections between arteries that would normally supply the brain tissue and veins that normally drain the brain, resulting in arteriovenous shunting with an intervening network of vessels within the brain parenchyma and lack of a true capillary bed.
The transition between artery and vein can take place via a so-called nidus (ie, a tangle of abnormal vessels located in the brain parenchyma) or can be direct (ie, fistulous) without any intervening network.
In the latter case, the term brain arteriovenous fistula or pial arteriovenous fistula is used.
Although cerebral AVMs are congenital lesions, patients tend to present later in life, most commonly with intracranial hemorrhage or seizures.
Definite interpretation of early venous drainage can be made only if the veins are seen in the "arterial" phase, which may also be identified at standard MR angiography or CT angiography if the shunt volume and draining veins are large enough.
Deep and ventricular locations of nidus will recruit perforator (lentriculostriate, thalamoperforator branches) and choroidal (anterior, medial, and lateral posterior choroidal arteries) supply, respectively, whereas venous drainage will typically be via the deep venous system.
More superficial or cortical locations, the main arterial supplies are through the pial arteries (branches of the anterior cerebral artery, MCA, and PCA), whereas venous drainage is mainly through the cortical veins.