Case contribution: Dr Radhiana Hassan
Clinical:
A 30 years old lady
Presented with right breast lump for 3 years
Slow increase in size, not painful
No family history of breast cancer
Clinically a palpable lump felt in the right breast
FNAC done told no malignant cell seen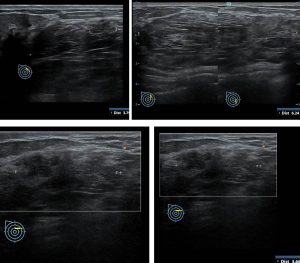 Ultrasound findings:
There is a large lesion in the inner upper quadrant of right breast.
This lesion is seen oval in shape with heterogenous echogenicity.
The echogenicity is mainly following the normal breast tissue.
There is no increase in vascularity and no penetrating vessels.
The lesion is seen coursing along the plane of the breast tissue with no infiltration of the tissue anterior or posterior to it.
No posterior shadowing.
No dilated duct. No abnormal enlargement of axillary nodes.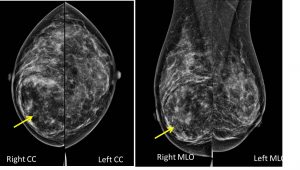 Mammographic findings:
There is a well-defined lesion at right inner quadrant of right breast measuring about 8.0×6.0cm.
The lesion is showed heterogenous density main similar to rest of breast tissue.
There is compression and displacement of surrounding breast tissue seen with no obvious infiltration.
There is no suspicious clutered microcalcification.
There is no thickening of the overlying skin. No nipple retraction.
No abnormal axillary nodes.
Diagnosis: Benign breast lesions; fibroadenolipoma
Discussion:
Breast fibroadenolipomas are rare benign tumours.
It is also known as breast hamartomas.
It present as a soft, mobile, nodular lesion characterized by slow growth and vary in size from tiny masses to tumor-like formations measuring 10–12 cm in diameter, which may occupy almost the entire breast.
It represent 4–8 % of the benign breast lesions diagnosed in women.
They are extremely rare in males.
Ultrasound in most cases appear as solid, well-defined, oval lesion lying parallel to the skin plane. The echo structure is inhomogeneous with hypoechoic areas intermixed with hyperechoic band-like or nodular areas, reflecting the presence of adipose, epithelial, and fibrous connective tissues.
Hypervascularization is absent on color Doppler imaging.
On mammogram these lesions are typically seen as oval or round formations, which are inhomogeneous with radio-opaque and radiotransparent areas reflecting the presence of tissues that differ in density.
They are well defined by a thin radio-opaque pseudocapsule. The pseudocapsule is composed of breast parenchyma that has been displaced by the mass.
The appearance has been described as 'breast within a breast' sign.