Case contribution: Dr Radhiana Hassan
Clinical:
A 53 years with rectosigmoid adenocarcinoma
 Had sigmoid colectomy and left ureterotomy with stenting done
Patient complaint of left sided abdominal pain on day 8 post operation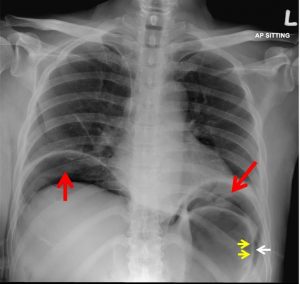 Chest radiograph findings:
Presence of free intraperitoneal seen
Bilateral subdiaphragmatic free air (red arrows)
Rigler sign (yellow arrow) with visualization of gastric wall
Central venous line in-situ
No pneumothorax
Radiological diagnosis: Pneumoperitoneum( subdiaphragmatic free air and Rigler sign)
Discussion:
Free intraperitoneal gas can be seen following surgical procedures.
It occurs in up to 60% of laparotomies and 25% of laparoscopic procedures.
The volume of gas on serial radiographs should decrease.
If volume is increasing, bowel perforation or anastomotic leak should be suspected.
Signs of pneumoperitoneum on plain radiograph include subdiaphragmatic free air and rigler sign as seen in this case.
Rigler sign is also known as double-wall sign of pneumoperitoneum seen when gas is outlining both sides of bowel wall. It is usually seen when there is large amounts of pneumoperitoneum (>1000mL)
Other radiographic signs include cupola sign
Progress of patient:
Subsequent imaging confirmed anastomotic leak in this case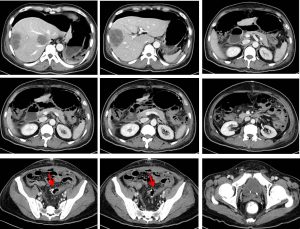 CT scan findings:
A suspicious small discontinuity at rectal wall is noted (red arrows).
Presence of loose surgical material at this region is also observed.
Fluid is seen tracking from gap into the larger left paracolic gutter collection.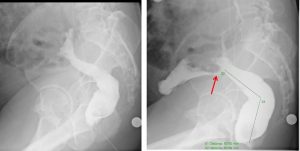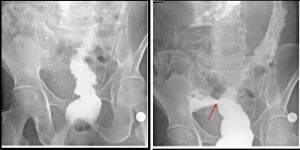 Lower GI contrast study done:
Diluted Gastrografin (1:1) is infused via rectum through a Foley's catheter 18F size, already anchored within the anal canal.
Free cephalic flow of contrast is observed through rectum till the descending colon.
Contrast extravasation from the anterior part of the rectum is observed approximately 12 cm from the anal verge, (red arrows) at the region of the anastomosis.