Case contribution: Dr Radhiana Hassan
Clinical:
A 29 years old man
Involved in MVA, motorcyle versus motorcycle
No loss of consciousness
Complaint of abdominal pain
No hematuria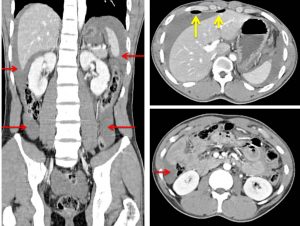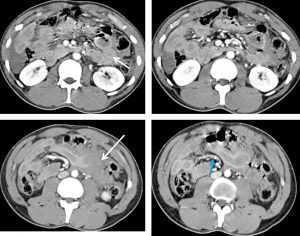 CT scan findings:
Massive hemoperitoneum evidenced by blood collections (red arrows) at perihepatic, perisplenic, paracolic gutters and in the pelvic region.
Free air pockets are also seen at perihepatic region (yellow arrows)
Some small bowel loops show thickened wall and suspicious surrounding blood collection (white arrows).
Beaded mesenteric vessels are also seen (blue arrow).
Intraoperative findings:
Massive hemoperitoneum about 1.2 Litres,
Through and through perforation of jejunum 30 cm from ileo-cecal valve.
Mesentery tear about 3 cm in length, 5 cm from the perforation. Active hemorrhage.
Contusion and hematoma of the transverse mesocolon.
Small bowel resected 5 cm with primary anastomosis done . Mesenteric tear repaired.
Diagnosis: Blunt abdominal trauma with small bowel and mesenteric injuries
Discussion:
Bowel and mesenteric injuries occurs in 0.3-5% of all blunt abdominal trauma.
Bowel injury has consistently been found to be the most common traumatic abdominopelvic injury missed on CT scan.
The commonest site of bowel injury is jejunum and ileum.
Bowel injuries include perforation, mural hematoma, active hemorrhage or serosal tear.
Mesenteric injuries include active bleeding from a laceration or mesenteric hematoma.
Definitive CT signs of bowel injury are visualization of bowel discontinuity and presence of free air.
Definitive CT signs for mesenteric injuries are active extravasation of contrast media, presence of intermesenteric free fluid, beading and termination of mesenteric vessels, abrupt termination of the mesenteric vessels and 'pooling' of contrast on delayed imaging